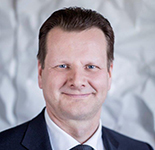 Oliver Bussmann
Group Chief Information Officer, Group Managing Director
Sessions Featuring This Speaker
Forrester's Forum For Technology Management Leaders
06/12/2014
Profile
Oliver T. Bussmann joined UBS in June 2013 as Group Chief Information Officer (CIO), responsible for the Group Technology organization. Oliver brings extensive technological and international business experience to UBS and is a highly regarded thought leader and pioneer in the fields of new information technologies and customer orientation.
Before joining UBS, Oliver acted as SAP's Global CIO for more than five years; prior to this, he worked for the Allianz Group, where he was the CIO for North America and Mexico for nine years. Earlier in his career, Oliver held various management positions at Deutsche Bank and IBM.
Forbes Magazine ranked Oliver as the "#1 Social CIO in the Fortune 250 and Global 250." The Wall Street Journal named him as one of the "Top 25 Executives in Technology" in 2011. Every year, The Wall Street Journal's Elite-8-Award is presented to the most innovative leaders in technology hired by listed companies. In October 2013, the Wall Street & Technology magazine awarded Oliver "Most Social CIO."