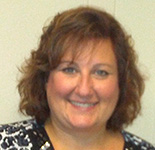 Pam Dancisin
VP Marketing, Internet Project Manager
Sessions Featuring This Speaker
Forrester's Forum For Customer Experience Professionals East
06/24/2014
Profile
Pam has been an employee of Dollar Bank for 24 years. She started her career with Dollar as a part time customer service representative, where she learned the values of treating customers with respect and dignity. This foundation led to her promotion through the customer service center to Manager.
After managing the customer service center for many years, Pam accepted a new position in the marketing department. Pam is responsible for managing internet and other technology projects; including, telephone banking, online banking, dollarbank.com, text message banking and mobile phone initiatives. In 2009, Pam was asked to chair the Internet Strategy Committee. This committee is charged with identifying internet technologies and determining the "right" time to introduce these service enhancements to the customers of Dollar Bank. Pam's current focus is identifying opportunities for Dollar Bank to service its customers with new technology.
Pam has her BS in Business Management from Robert Morris University and her MBA in Management Information Systems from Point Park University.