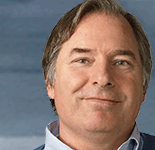 Peter Burris
Vice President, Research Director
Sessions Featuring This Speaker
Forrester's Forum For Technology Management Leaders
05/05/2014
11:30 AM - 12:10 PM

Executive Panel: Leading Transformation In A Digital World

This panel will consist of CIOs in the midst of digital disruption — either disrupting or being disrupted. This session will focus on the competencies, technologies, and leadership lessons required to succeed as a CIO in these fast-changing environments. Learn how to:

Build a culture and discipline for institutionalizing iterative innovation.
Drive agility through process and technology transformation.
Focus technology investments on business outcomes.
Research Focus
In his role as research director, Mr. Burris helps set the overall CIO role research agenda at Forrester, craft effective CIO research with our senior Forrester analysts, and ensure overall CIO research quality. His research team focuses on the evolving relationship between CIOs and CMOs, best practices in building and instituting an IT/BT strategy, BT innovation approaches to accelerate business outcomes, and social business and collaboration strategies.
His personal research includes the role of IT/BT in the age of the customer. He also contributes to the Forrester's research on social business, specifically focusing on the functional evolution of social computing tool sets and how they will be applied to conduct complex, marketing-facing work. Finally, he is a leading thinker on IT/BT adoption in business.
Previous Work Experience
Mr. Burris joined Forrester in 2008. Prior to Forrester, he held numerous senior IT, marketing, and analyst jobs at leading organizations, including the DoD, HP, and Meta Group. At Meta Group, he jointly ran research, developing the advanced and broadly adopted "adaptive infrastructure" method for implementing plastic, services-based IT infrastructure.
Education
Peter attended Yale University.