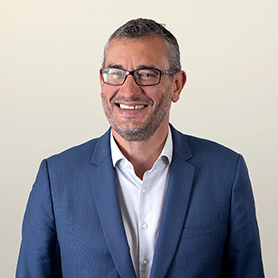 Thomas Husson
Vice President, Principal Analyst
Sessions Featuring This Speaker
Forrester's Forum For Marketing Leaders
05/13/2014
03:35 PM - 04:20 PM

Delivering Real-Time Value On Mobile And Social

From Twitter and Vine to Facebook or WhatsApp, lines between mobile and social touchpoints are blurring. In this session, Thomas will explore consumer behaviors at the intersection of mobile and social and elaborate on what it means for brands. He'll discuss:

What mobile and social convergence really means.
How marketers can benefit from it.
Best practices in engaging consumers at the crossroads of mobile and social.
Research Focus
Thomas is a vice president and principal analyst serving chief marketing officers. Thomas focuses on technology innovations within marketing and their impact on strategies, such as the disruptive role of technology in bridging the digital and physical worlds; new conversational interfaces, such as messaging apps, bots, and intelligent agents; and the role of mobile devices, including wearables and connected objects, in shaping consumer attitudes and behaviors.
Thomas has spoken at numerous events around the world, including Mobile World Congress, Mobile Convention Amsterdam, DMEXCO, and WebSummit, and he is regularly quoted in leading media outlets, such as The New York Times, The Wall Street Journal, Reuters, Les Echos, and Le Monde.
He has worked with clients from nearly every industry — including consumer goods, luxury, travel, retail, and financial services — to advise and guide the development of their mobile and digital strategies.
Previous Work Experience
Thomas has more than 20 years of experience in the digital and mobile space. Prior to joining Forrester in August 2008, Thomas spent four years at JupiterResearch as a senior mobile analyst and six years at Bouygues Telecom (the third-largest French operator), first as internet product manager and then as mobile multimedia marketing manager. Thomas also brings experience from the financial services sector, working in Milan for a year and a half. Thomas has served as a judge for the Global Mobile Awards at Mobile World Congress since 2008.
Education
Thomas holds degrees in international marketing/strategy and finance from EM Lyon (Lyon School of Management) and Science Po Paris (Institute of Political Science).