< View All Media Resources
US Tech Spend: Business Technology (BT) Investments Will Rise 10% In 2016

May 9, 2016
Forrester recently released its US technology spend outlook, which includes data on tech spend and lays out how businesses should position their firms' tech spending plans (see image below). Key findings show that:
While overall US tech market growth in 2016 will be subdued at 4.3% because of weak demand for hardware and licensed software, spending on business technology will increase by more than 10%, exceeding half of all new project spending.
Cloud adoption will hit a tipping point this year, as firms' use of software-as-a-service (SaaS) as a replacement for existing software will hit critical mass.
Next year will be a better year for the US tech market, and Forrester forecasts 5.1% growth overall and 8.9% growth for BT spending.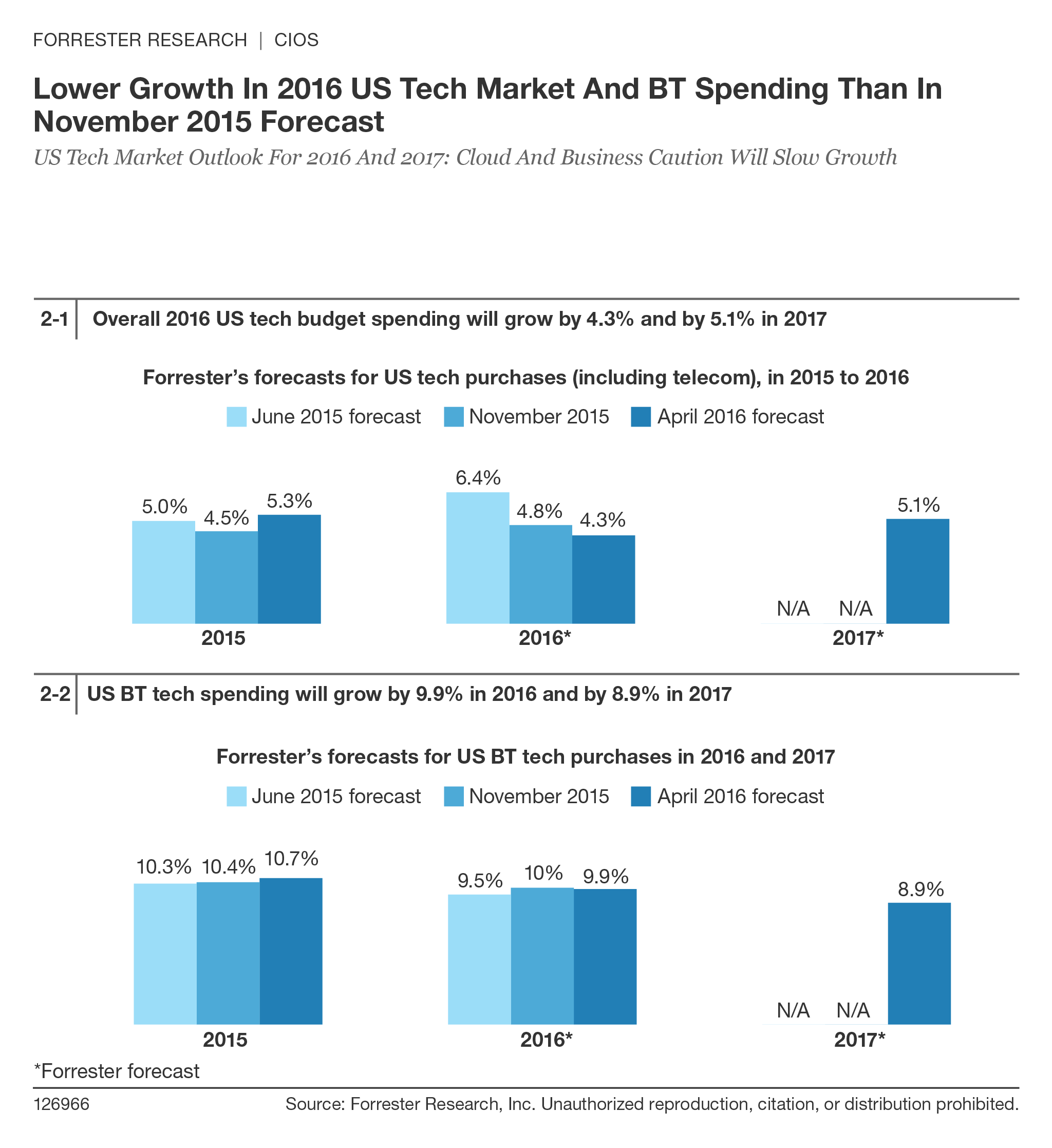 Click here for more information, and contact us if you'd like a copy of this report.
About Forrester
Forrester (Nasdaq: FORR) is one of the most influential research and advisory firms in the world. We work with business and technology leaders to develop customer-obsessed strategies that drive growth. Forrester's unique insights are grounded in annual surveys of more than 500,000 consumers and business leaders worldwide, rigorous and objective methodologies, and the shared wisdom of our most innovative clients. Through proprietary research, data, custom consulting, exclusive executive peer groups, and events, the Forrester experience is about a singular and powerful purpose: to challenge the thinking of our clients to help them lead change in their organizations.
CONTACT FORRESTER PR
+ 1 617.613.6000 (US and elsewhere)
+ 31 20.305.4876 (Europe)