CX North America Resources
To help you prepare for CX North America, we've compiled some resources to help you troubleshoot and make the most out of your virtual experience.
When to Access the CX North America Platform:
Log in to the platform on Thursday, June 3 at 1 pm ET to set up your networking profile, build your agenda, and preview early access content. "Doors" for the preview period for early access will close on Friday, June 4 at 5 pm ET. The live virtual experience kicks off on Monday, June 7 at 12 pm ET, with access to the platform beginning at 9 am ET. The platform will remain open for 90 days.
If you have just registered for CX North America, your access credentials will be sent to you via email once your registration has been processed.
How to Log into CX North America
Step 1: Access the virtual platform via this link. You can also enter the URL into your browser: https://onlinexperiences.com/Launch/Event.htm?ShowKey=154100
Step 2: Enter your email address. Please enter the email address you used when registering for CX North America.
Step 3: Enter your CX North America Reference Number as your password. This can be found in your event confirmation email as well as the Login Details Email sent on June 3. If you cannot locate this number, please email events@forrester.com for assistance or click here to be emailed a reminder of your reference number.
If you are registered as sponsor staff, please enter your email address as your password, all lowercase. Please note, if you changed your password in the platform, the login information you received may no longer be accurate.
Technical Issues?
Can you try another browser?
Are you on WiFi?
Are you using a VPN? If so, disconnect.
Already logged into CX North America but need assistance?
Contact the help desk within the virtual CX North America platform. The help desk will be available in the platform during the live event hours.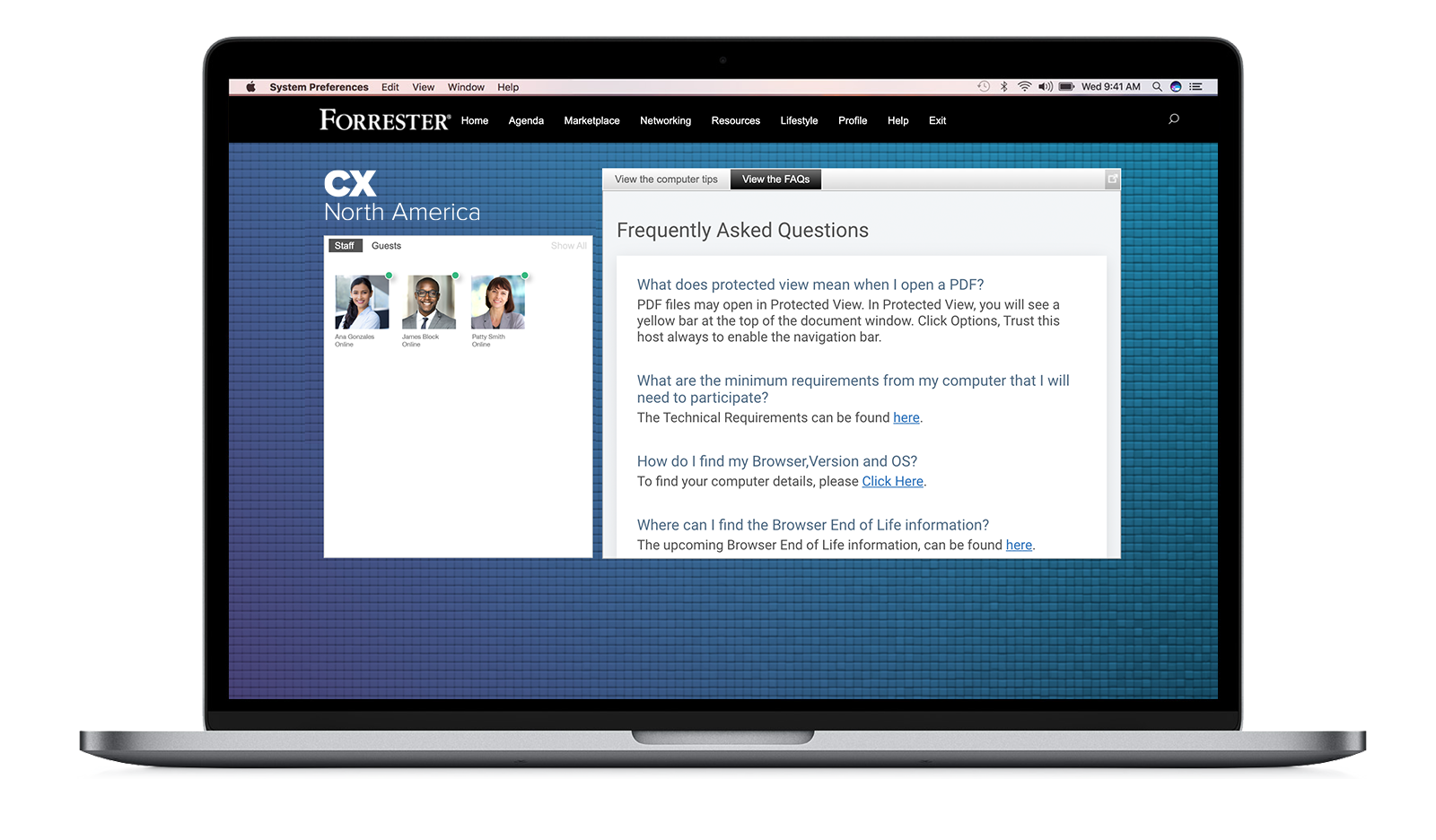 Tips to prepare your computer for the virtual experience:
Participate in the Fitness Challenge!
Download the Strava app now from the Apple App Store or Google Play and join the Forrester CX North America Club to get started. Any running or cycling activities you accomplish will count towards the movement leaderboard.