Meet With Our Analysts Virtually
Forrester forums offer unparalleled opportunities for virtual face-to-face meetings with our best-in-class analysts & experts. Forum attendees can choose to meet with our analysts & experts one-on-one to explore individual issues and solutions.
All analyst & expert meetings are subject to change based on availability. For additional information about virtual analyst meetings, contact Maddie Beatson.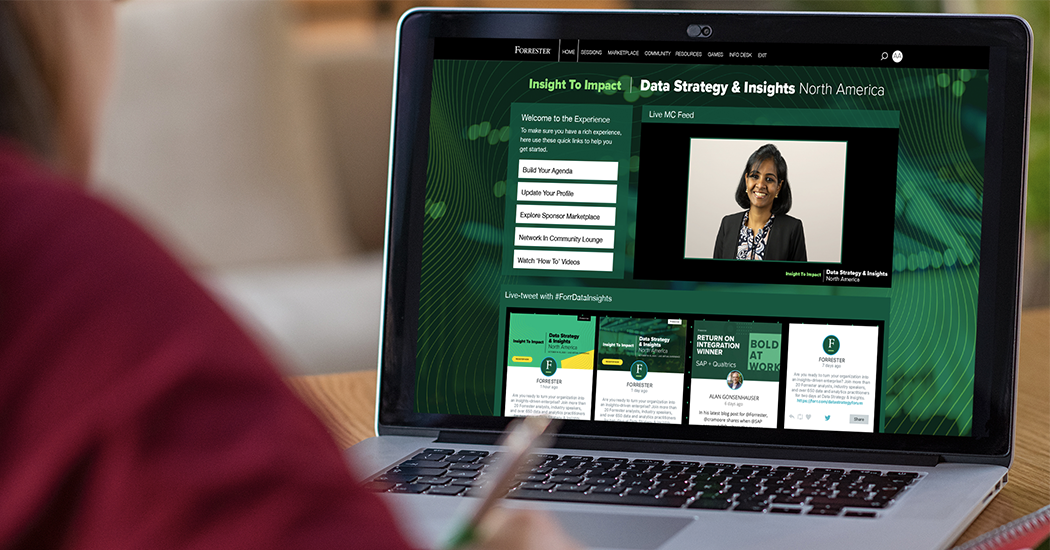 Boris Evelson, VP, Principal Analyst
Coverage: Analytics Applications, Augmented Analytics, Augmented Business Intelligence, Big Data, Business Intelligence, Data Architecture, Data Visualization, Data Warehousing, Information Architecture, Natural Language Processing, Query & Reporting Tools, Systems Of Insight and Text Analytics.
Brandon Purcell, Principal Analyst
Coverage: Artificial Intelligence, Customer Analytics, Customer Intelligence, Segmentation, Customer Lifetime Value, Al Ethics, Data Science, Machine Learning and Text Analytics.
Brian Hopkins, VP, Principal Analyst
Coverage: Adaptive (versus Agile) Enterprises, Technology driven innovation, Innovation platforms & Ecosystems, Top Technologies & Trends, Tech-Enabled Business Transformation, Insights-driven Strategies & Maturity Assessment, Edge Computing & Intelligent Edge, Artificial Intelligence, Quantum Computing and Insight Platforms.
Cinny Little, Principal Analyst
Coverage: Analytics Advocacy, Change Management, Competitive Intelligence, Consumer Intelligence, Customer Centricity, Data Preparation, Data Storytelling, Globalization & Localization and Key Performance Indicators (KPIs).
David Johnson, Principal Analyst
Coverage: Employee Experience, Customer Experience, Employee Engagement, Measurement, EX Program, Science and Psychology of  EX.
Faith Adams, Senior Analyst
Coverage: Customer Centricity, Customer Experience Measurement, Customer Feedback Management (CFM), Customer Onboarding, Customer Experience technologies, Health Plans & Health Providers, Life Insurance, Net Promoter Score (NPS), and VoC / Voice of Customer.
Fatemeh Khatibloo, VP, Principal Analyst
Coverage: Customer Communications, Customer Engagement, Customer Intelligence, Data & Information Protection, Database Marketing, and Internet of Things (IoT).

Gene Leganza, VP, Research Director
Coverage: Data management, Data Governance, Enterprise Architecture, and Master Data Management.
George Lawrie, VP, Principal Analyst
Coverage: Consumer, Packaged Goods (CPG), Enterprise Resource Planning Applications, (ERP) Financial Services, Manufacturing Packaged Solutions, Planning and Fulfillment Retail.
J.P. Gownder, VP, Principal Analyst
Coverage: Amazon, Artificial Intelligence, Augmented Reality, Business & IT Alignment, Cognizant, Covid-19 Strategies, Employee Experience, Future of Work Future of Jobs, Google, Microsoft, Robotic Process Automation (RPA) and The Adaptive Workforce.
James McCormick, Principal Analyst
Coverage: Automotive, Customer Data, Data Management Platforms (DMPs), Digital Marketing, Enterprise Marketing Platforms, Fintech, Gaming, Geospatial Solutions, Insurance, Marketing Automation, Mobile Analytics, Retail, Tag Management and Web Analytics.
Jennifer Belissent, PhD, Principal Analyst
Coverage: Data Strategy and Governance, Data Literacy, Data Economy, Organizational Design and Incentive Structures, Insights Service Providers, Smart Cities and Food Tech.
Kjell Carlsson, Principal Analyst
Coverage: Automated Machine Learning, Augmented Intelligence, Computer Vision, Data Science Best Practices, Predictive Analytics & Machine Learning (Modelops, MLops), Tools and Speech Recognition & Speech Analytics.
Maxie Schmidt, Principal Analyst
Coverage: Customer Experience metrics and measurement programs, Measuring emotion in Customer Experience, Going beyond surveys to measure Customer Experience Value for customer, Making the case for CX, ROI of CX.
Michele Goetz, VP, Principal Analyst
Coverage: Artificial Intelligence (AI), Data Integration, Data Management, Data Quality & Data Governance and Data Virtualization.
Mike Gualtieri, VP, Principal Analyst
Coverage: AI, Machine Learning and Real-teim Analytics.
Noel Yuhanna, VP, Principal Analyst
Coverage: Data Management, Data Architectures, Data Fabric, Data Lakes, Data Warehouses, Data Virtualization, Data Platforms, Databases, Master Data Management (MDM), DataOps, Data Pipeline/ETL, NoSQL, Big Data, Hadoop, In-Memory, Translytical, Cloud, Hybrid cloud, Data Security, Graph platforms and Other emerging Data Platforms.
Peter Wannemacher, Principal Analyst
Coverage: Consumer Financial Services; Digital Banking Benchmarking; Digital Banking Strategies; eBusiness/eCommerce Adoption; eBusiness/eCommerce Strategy; Mobile Banking; Multichannel Selling Strategies; Online Financial Products & Services; Retail Banking; The Mobile Channel.
Srividya Sridharan, VP, Research Director
Coverage: Advanced Analytics, Artificial Intelligence, Business Intelligence, Customer Analytics, Customer Data, Data Management and Predictive Analytics