The Technology Awards recognize excellence in technology strategy that drives an obsession with customer success and business growth.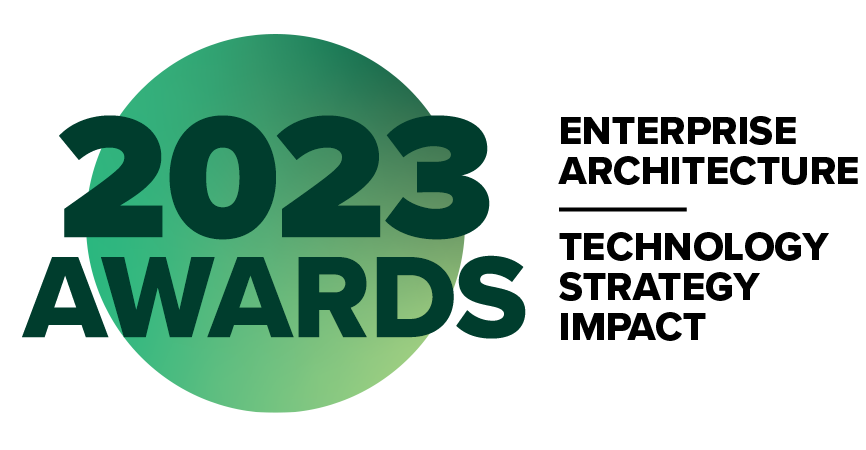 The following reports define the key concepts at the core of Forrester Technology Awards.
The Customer-Obsessed Growth Engine. This report explains the key steps to take now to align internal operations that fuel a customer-obsessed growth engine designed to grow revenue, profit, and customer retention efficiently and consistently.
The Best Tech Organizations Are Future Fit.  This report helps you understand how IT organizations move through the stages of IT maturity to ensure their business delivers on the promise of customer obsession.
Want to find out who the nominees were in 2022 and why they were chosen? Read the blogs linked below.
SUBMISSIONS ARE NOW CLOSED FOR 2023!
Technology Strategy Impact Award
The submission process should highlight new and innovative approaches to technology strategy, including the use of cutting-edge platforms, partnerships, and practices that accelerate growth and enable businesses to be more adaptive, creative, and  resilient.
The Technology Strategy Impact Award recipient will demonstrate:​
A technology strategy that enables the firm's customer obsession: an enterprise wide technology strategy that puts the customer at the center of the firm's operating model.
A high-performing IT operating model that leverages a continuous, iterative, and integrated strategy-to-value delivery process linking business objectives through business capabilities, with end-to-end value streams.
Quantifiably better outcomes for customers, employees, and the business as a result
We encourage all companies who have achieved success with a modern, future fit technology strategy to participate in the Forrester Technology Strategy Impact Awards. However, we want to emphasize that this year, we are expecting even more innovative and impactful submissions.
Congratulations to our 2023 Technology Strategy Impact Award winner.

Enterprise Architecture Award
Forrester is pleased to announce that this year's EA Awards are co-judged by The Open Group, author of the TOGAF® Standard, which was developed by The Open Group Architecture Forum.
In selecting the winners of the 2023 Enterprise Architecture Award, the judges from Forrester and The Open Group are looking for stories of enterprise architecture (EA) excellence resulting in tangible business and customer results. Outcome-driven approaches to EA help firms become future fit — adaptive, creative, and resilient. This year's winners will embody the six principles of outcome-driven enterprise architecture: valuable, influential, continuous, agile, accountable, and pragmatic.
The Enterprise Architecture Award winner will demonstrate:​
An EA roadmap that contributes to the future fitness of the technology organization and the entire business.
EA practices that drive change, growth, and differentiation through timely yet strategic decisions.
An EA organization that embodies six principles: accountable, agile, continuous, influential, pragmatic, and valuable.
EA metrics that focus on customer outcomes and experiences.
We encourage all companies that have achieved success in outcome-driven EA practices to participate in the Enterprise Architecture Awards. We are looking forward to seeing the leading-edge cases that showcase the very best EA practices.
Congratulations to our 2023 Enterprise Architecture Award winner.

Executive Leadership Exchange
The Executive Leadership Exchange (ELE) is an executive programme for up to 30 qualified senior technology executives. The programme will expand on the Forrester thought leadership presented at the keynotes of the conference and create a private senior executive network. A facilitated networking session will be offered that targets best practices aligned to executive priorities.
ELE is an invite-only programme. To be approved to attend, applicants must be the senior-most technology leader from their organisation, not reporting into any higher technology executive. Applicants cannot be representatives from high-tech and service provider organisations that sell technology products or services. Attendees who may meet these qualifications will be invited to join the ELE experience.
Please contact events@forrester.com with any questions. 
Exclusive Agenda
Recommended Executive Agenda
Take Forrester's guidance on which sessions to attend as a technology leader from the entire conference.
Private Executive Sessions
Attend private sessions featuring exclusive-panels and presentations from Forrester analysts.
Analyst Access
Priority Analyst 1:1 Booking
Receive priority booking for 1:1 networking and guidance meetings with our best-in-class analysts & experts.
Detailed Agenda
Tuesday, 31 October
8:30 AM – 8:55 AM | Introduction & Overview
Join us for a snappy pre-event overview of what you can expect from the sessions, how to best connect with the right resources, the exclusive ELE program elements, and network with industry peers who will be part of the ELE program throughout the event. 
Speaker: John Brand, Forrester
12:30PM – 1:30PM | Exclusive Keynote Q&A
Join our invitation-only lunch with other ELE participants and engage in an open discussion with peers, analysts, and other key-note presenters. Bring your tough and curly questions for exploration during this exclusive and intimate lunch event. 
Facilitated by: John Brand, Forrester
Wednesday, 1 November
12:05 PM – 1:05 PM | Build Trust Through AI Governance
We'll provide strategies, frameworks, standards, and insights to help navigate AI regulations, de-risk AI, and attain valuable business outcomes.   
Speakers:
John Brand, Forrester
Michele Goetz, Forrester
Forrester Women's Leadership
Join us as we discuss the many ways you can power change and growth for yourself and other women in the workplace. Network and learn from your peers on advancement strategies for women leaders and participate in conversations about how to develop meaningful relationships with women leaders in the data and analytics industry. All are welcome to join! This is an in-person session only.
Wednesday 1 November | 8:30 AM – 9:25 AM
In the last two decades, a significant amount of money and time has been spent in efforts to diversify the tech and security workforces. While progress is happening, it seems to move at a glacial pace. Women are still significantly underrepresented in tech and security as a whole, and dramatically underrepresented in tech and security leadership. The women who do succeed make it by beating the odds and overcoming significant obstacles in their path to success. This problem represents a risk, not just for women, but for the industry as a whole. Join this panel to discuss how women can move beyond surviving despite the odds, to thriving in an ecosystem of opportunity. 
Speakers:
JInan Budge, Forrester
Simone Briggs, Forrester
Michele Goetz, Forrester
Line Larrivaud, Forrester
Janet Worthington, Forrester
Josianne Fortin, Woodside Energy
Diversity, equity & inclusion are part of the fabric of Forrester's culture. We are excited to share that this year's program includes sessions dedicated to a number of important areas of focus as it relates to diversity & inclusion.
Please note these sessions are available on the DIGITAL PLATFORM ONLY and will not be in-person sessions (unless otherwise stated).
DIGITAL SESSION ONLY
Build A Better Listening Strategy To Inspire And Enable Your Employees
Gone are the days when leaders stood in front of their followers and told them what matters. Modern leaders engage their teams to learn from them, and with them, what matters in business and for customers. But that can only happen with a more purposeful listening strategy. In this session, attendees will learn:   
What listening is and why it plays the largest role in an organization's approach to employee input. 

 

How listening is a productive, rather than merely reactive, tool for improving the business. 

 

Why successful leaders will be known as much for what they learned as what they said. 

 
Speaker: David Johnson, Forrester
DIGITAL SESSION ONLY
Earning Excellence: How Managers Can Inspire And Enable Sustained Excellence 
Energy and engagement are finite resources that are essential to achieving business results. One of the challenges that organizations and leaders face is that these resources have been depleted for many of their employees due to a lack of strategies to refresh and sustain that energy. In this session, we will: 
Define "tired rock stars" — high-engagement contributors who are at risk of burning out.

 

Guide leaders to see the tired rock stars in their ranks (including, possibly, themselves) and understand them more clearly.

 
Share how leaders can sustainably earn excellence from their talent.
Speaker: Jonathan Roberts, Forrester
DIGITAL SESSION ONLY
Join The Green Market Revolution
Environmental sustainability is neither just a risk nor just a business opportunity but a revolution that will force CMOs to rethink their marketing. In this session, you will learn how to: 
Differentiate your approach to sustainability by embracing the green market revolution.

 

Understand consumers' behaviours and attitudes toward environmental sustainability.

 

Learn from sustainable leaders on how to best engage your green customers.
Speaker: Thomas Husson, Forrester
DIGITAL SESSION ONLY
Panel: The Evolving Drivers Behind Accessibility Commitments: Attracting and Retaining Talent Enters The Spotlight
Compliance and avoiding lawsuits are no longer the primary drivers behind enterprise accessibility commitments.  In this panel session we will discuss why firms increasingly cite "attracting and retaining talent" as a top driver behind accessibility commitments and the best practices to deliver on those commitments.
You will learn:
The myths of providing accommodations and how to manage an increasing number of requests from employees
How companies personalize their employee value proposition at scale
Why a "one size fits all" approach to accessibility doesn't work and why having a strong, accessible, culture can be the difference between a productive employee base versus and unsatisfied one,
Speakers:
Gina Bhawalkar, Forrester
Sarah Bernard, Co-Founder & Chief Operating Officer, Inclusively
Charlotte Dales, Co-Founder & CEO, Inclusively
DIGITAL SESSION ONLY
Fireside Chat: Resilience, Growth Mindset And Self-Care: A Leadership Journey
A personal & professional journey that has seen this Product Leader succeed across multiple industries, geographies and at the intersection of technological & business disruption. In this fireside chat, Ash Mukherjee will discuss with Monica Carlesso how she has grown as leader by embracing curiosity and displayed grit to open to be constantly out of the comfort zone, yet has learnt how self-care is key to leadership and a sustainable growth. Modern leadership is about embracing change and dichotomies, both as strategic business levers but also to lead compassionately through massive societal changes and Monica will share her story with Ash. 
 
During this session, we will discuss:  
• A product leader's journey across different industries and geographies, exploring challenges and implications 
• How to overcome the bumps of a growth journey with curiosity, grit and self-care.   
Speakers:
Ash Mukherjee, Forrester
Monica Carlesso, Lloyds Banking Group
DIGITAL SESSION ONLY
Embracing Diversity As Your Key For Growth: A Few Practical Steps!
Diversity, Equity and Inclusion ("DEI") are key concepts at the forefront of many corporations' agendas today. The need for a more inclusive workspace is not new, but corporations are now recognizing trends in the correlation between a diverse/inclusive workspace and greater staff retention and productivity. This session provides an easy-to-follow pathway that helps get any company past the initial step (of what is often viewed unfavorably as 'requisite diversity training') and around the most common traps that stop companies from maintaining best practices.
How to 'jump right in' and identify specific areas for program enhancement. Don't get lost in the too-big picture!
Learn the three key components of the employee lifecycle for DEI incorporation.
Discover how a stronger DEI program can lead to team and company maturity.
Recognize the most common traps: where attempts to be inclusive go wrong with most corporations.
Act upon two things you can do to improve immediately/today.
Speaker:
Jade Johnson, Owner, JadeInclusion
DIGITAL SESSION ONLY
Fireside Chat: Inner Master, Outer Impact: Lessons in Leadership
Hitendra's mission is to discover, codify, and explore the laws of success in life and leadership. With an MBA and Ph.D. from MIT's Sloan School of Management, Wadhwa brings a mathematician's rigor and a truth-seeker's spirit to some of today's most vexing questions about authenticity, success, leadership, and human potential. In this conversation, we'll explore with Hitendra his personal journey of discovery, his insights, and his recommendations for defining, and then achieving purpose, and how you can be a better leader with Cultural Intelligence.
Speakers:
Ash Mukherjee, Forrester
Hitendra Wadwha, Mentora Institute
"If you want to go fast, travel alone. If you want to go far, travel together." Technology & Innovation APAC provides a broad and deep agenda to maximise learning and networking opportunities for groups of attendees from the same company.
Take another look at the agenda today. Browse some sessions you think would interest your team. See for yourself why it really is smarter to "travel together" when you come to this year's Technology & Innovation Forum.
Small Team
Discounted Tickets: Receive 4 tickets for the price of 3 in one transaction. No code required, just add 4 tickets to your cart.
Large Team
Pricing and experiential incentive for teams of 25+ paid attendees from the same enterprise.
Priority 1-on-1s: Advanced access to book (1) 20-min 1-on-1 meetings before the general public.
VIP Seating in Keynote Room: Premier seating reserved for VIP attendees​
VIP Badge: Unique name badge identifier to signify VIP-level status.
Technology & Innovation APAC · October 31 – November 1, 2023 · Sydney & Digital