Technology & Innovation North America offers unparalleled opportunities for meetings with our best-in-class analysts & experts. 1-on-1 meetings are 20-minute networking and guidance discussions focused on addressing a specific question or topic aligned to the analyst coverage area.
Registered attendees will be notified by email on how to book. All analyst & expert meetings are subject to change based on availability. Stay tuned for more information.
For additional information about onsite analyst meetings, please contact Hanna Smith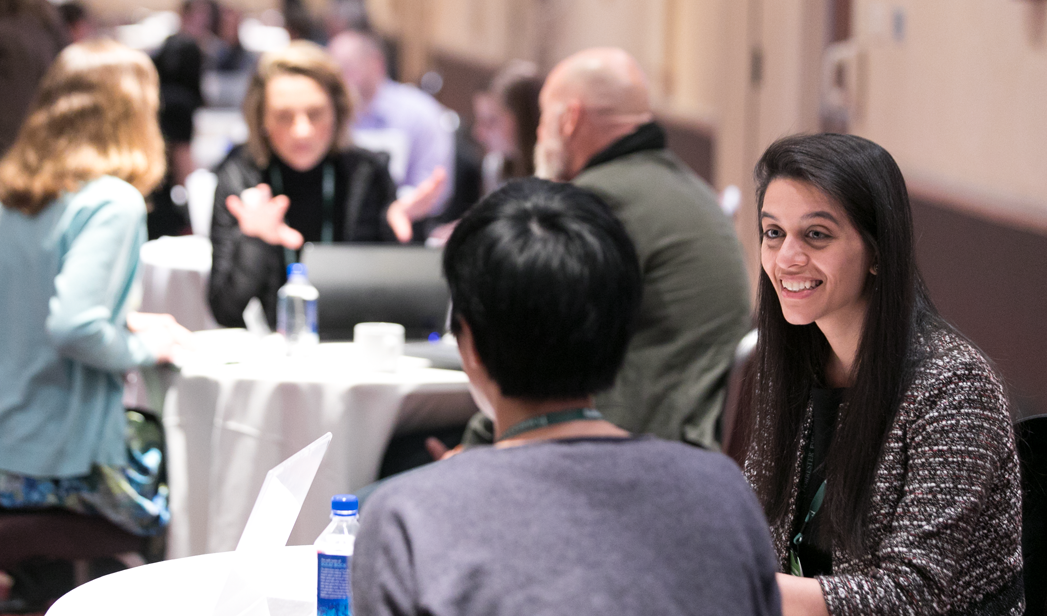 Peer Networking
It's time to make new connections and expand your network. Our event platform offers several unique features to connect attendees during the event. Whether you are looking for face-to-face chats or a chat based conversation, we have you covered.
AfterWords
Ever wanted the chance to go backstage and be a part of the conversations that go on in the Green Room? Well now is your time! In these sessions, delegates will have the opportunity to engage with our Forrester keynoters and delve deeper into the frameworks and thought-leadership just revealed in their presentations.
Drop-In Discussions
Join interactive, analyst-led group discussions with your peers focusing on specific topics trending in your role.  A low-pressure group format that enables conversations, networking and engagement. 
Sponsor Connections
The platform offers seamless connections between attendees and leading technology providers. These connections provide attendees solutions that align to their roles and key initiatives.
AfterWords
Tuesday, November 2 | 1:30pm-1:50pm
The Creativity Boom Ushers In Your Next Stage Of Growth
Jay Pattisall and Ted Schadler, Forrester
Tuesday, November 2 | 4:55pm-5:15pm
How To Find Creative Technology Opportunities
Brian Hopkins, Forrester
Wednesday, November 3 | 1:20pm-1:40pm
Creativity And Consumer Empowerment Through Experimentation
Anjali Lai, Forrester
Drop-In Discussions
Tuesday, November 2 | 1:30pm-1:50pm
Future Proof Your Organization With Emerging Technology
This drop-in session discusses how organizations are evaluating and experimenting with emerging technology. We'll explore how organizations can balance value and risk when evaluating and experimenting with emerging technology, and the organizational challenges when considering emerging technology.
Nick Barber, Forrester
Tuesday, November 2 | 3:35pm-3:55pm
Get Your Employees To Thrive In The Future Of Work
This drop-in session discusses how technology leaders can get the best out of their people. We will explore what leaders need to know about the workforce today, how they can enable their teams to bring their best selves to work and the tools and technology that can help make it happen.
Jonathan Roberts, Forrester
Tuesday, November 2 | 3:35pm-3:55pm
Enabling a High Performing Operating Model
This drop-in session examines how your peers are designing their operating models in order to deliver high performance. We'll discuss what the current challenges in designing an operating model are, how organizations are balancing agility, efficiency, and effectiveness, and consider how you can use leadership, governance and culture to deliver performance.
Fiona Mark, Forrester
Wednesday, November 3 | 1:20pm-1:40pm
Demonstrating The Business Value Of Technology
This drop-in session will explore the ways and means leaders can capture and generate value. Specifically, balancing efficiency with effectiveness through human-centered strategies.
Chris Gilchrist, Forrester
Wednesday, November 3 | 1:20pm-1:40pm
You've Made Fueling Growth With Innovation A Top Priority — But How Do You Make It Happen?
Join this drop-in session to discuss innovation best practices for tech organizations of all types — traditional, modern, and future fit. We will distinguish between innovation for show and innovation to drive business results. Nothing wrong with showcasing tech potential but driving business growth with innovation is a repeatable practice that involves strategic funding, a culture of innovation, and engagement across the enterprise.
Bobby Cameron, Forrester
Wednesday, November 3 | 2:50pm-3:10pm
Optimize Your Tech Stack And Services
Software applications are critical to all forms of business, but creating them is increasingly more complicated all the while the margin of error is shrinking.  In today's panel, we will be discussing present and future innovations that can help enterprises optimize their tech stack to create modern applications that can move their business forward.
Chris Condo, Forrester