Modernize Customer-Facing Technology With A FIRE Digital Experience Platform
When developing a customer-facing technology strategy, the digital experience platform you choose is crucial in achieving your transformation goals. Not all technology platforms are created equal, however, in terms of their ability to drive successful digital outcomes.
A key differentiator in customer-facing platforms lies in FIRE (flexible, inexpensive, rapid, and easy) technology. This type of platform technology can help you innovate (and iterate) quickly and eliminate friction in digital workflows.
For digital leaders looking to modernize their architecture and move to a future fit platform, FIRE can help you create a powerful tech ecosystem that unleashes new digital capabilities.
Download this Forrester report to learn how to enhance your digital business with FIRE digital experience platforms, unlocking adaptivity, creativity, and resiliency in your technology ecosystem.
Discover how FIRE platforms can remove price barriers, integrate with legacy systems, and ease adoption by business users while iterating faster on modern technology.
Get your copy of this report to learn:
How to modernize digital experiences with FIRE platforms.
The future fit benefits of a modern digital tech ecosystem built with cloud and software as a service (SaaS).
How the right FIRE platform supports internal and external users.
What's inside?
Four benefits of FIRE platforms for digital leaders.
Two ways to modernize digital capability with an ecosystem built on cloud and SaaS.
Two ways to run an effective selection process.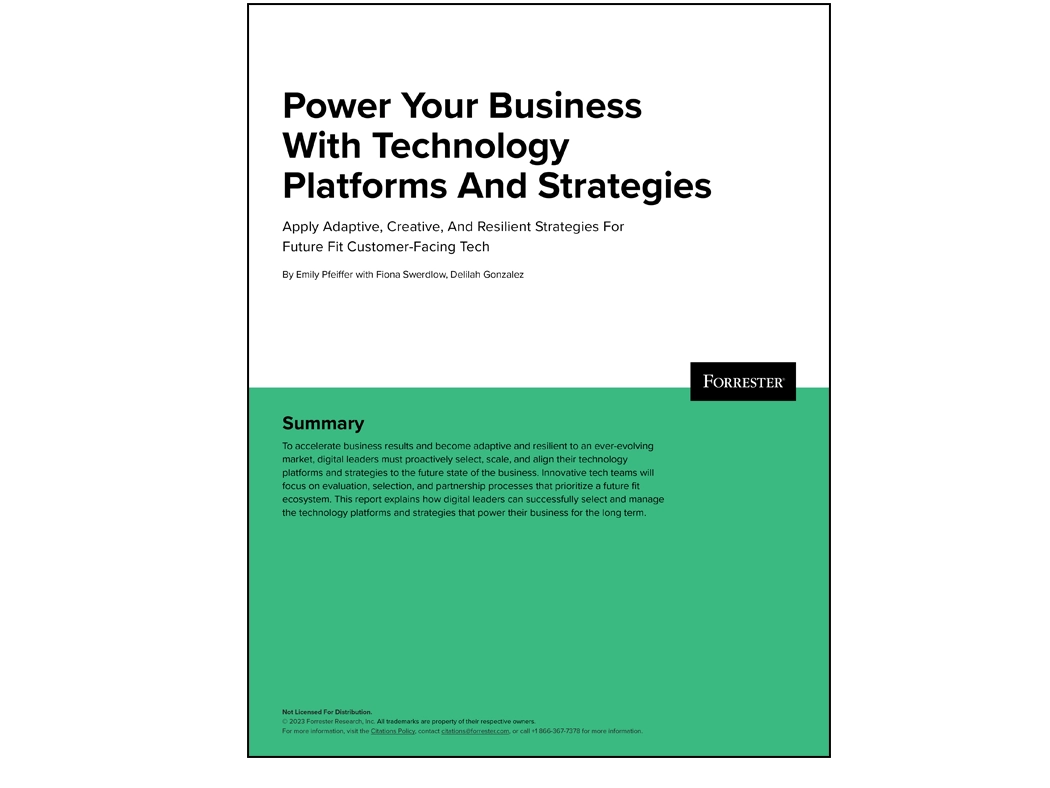 Report: Power Your Business With Technology Platforms And Strategies
Thank you for downloading our e-book.