Alex Stein
Senior Consultant, Forrester
Alex is a senior consultant, helping B2C and B2B brands evolve to compete in digital and customer experience. In partnership with a range of subject matter experts at Forrester, Alex creates solutions to client challenges in consumer marketing, strategy, orchestration, transformation, technology, and governance. With broad experience in CX and digital and social marketing, as well as expertise in social media analytics, Alex applies the lens of customer experience and value creation to consulting projects using a data- and insights-driven approach.
His specialties include customer journey mapping, digital and social marketing, social media management solutions (SMMS), CRM integration, vendor evaluation, CX measurement, customer insights, and personalization.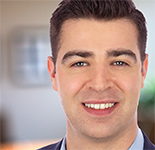 Technology & Innovation EMEA · October 13 – 14, 2022 · London & Digital Experience
Intercontinental London – The 02
One Waterview Drive, Greenwich Peninsula, London, SE10 0TW
Book your hotel today.