The CIO's Role In The Growth Agenda
Up Your CIO Game With A Technology Strategy Focused On Growth 
The tech leader's role is evolving from a niche focus on technology strategy to a crucial business enabler with a seat at the table where pivotal decisions are made — and top-line revenue growth is generated.
Today's successful CIOs will be the ones who develop a unified technology strategy to help marketing, sales, customer experience, digital, and product teams propel the company's growth — and accelerate innovation.
Read this Forrester report to prepare for the growth agenda mandate facing today's CIOs. You'll discover the importance of creating a customer-centric technology strategy, the strategic role of alignment, and how to turn the tech organization into an engine of business growth with emerging technologies such as AI.
You don't want to fall behind this new CIO reality. Here's a sample of what you'll learn:
"In our studies, respondents at enterprises with high levels of alignment across customer-facing functions report 2.4x higher revenue growth than those with some or no alignment. Those same aligned groups benefit from working with IT teams that are 3.7 times more likely to be highly or somewhat aligned with other functions." Download the report to read the full text.
What's inside?
The market shifts that are transforming the CIO's role.
How to use AI to amplify growth and optimize everything.
Three roles that tech teams play in powering technology-driven growth.
Growth vectors impacted by technology strategy.
Strategies to turbocharge tech as a business growth engine
A framework to get you started on a growth agenda.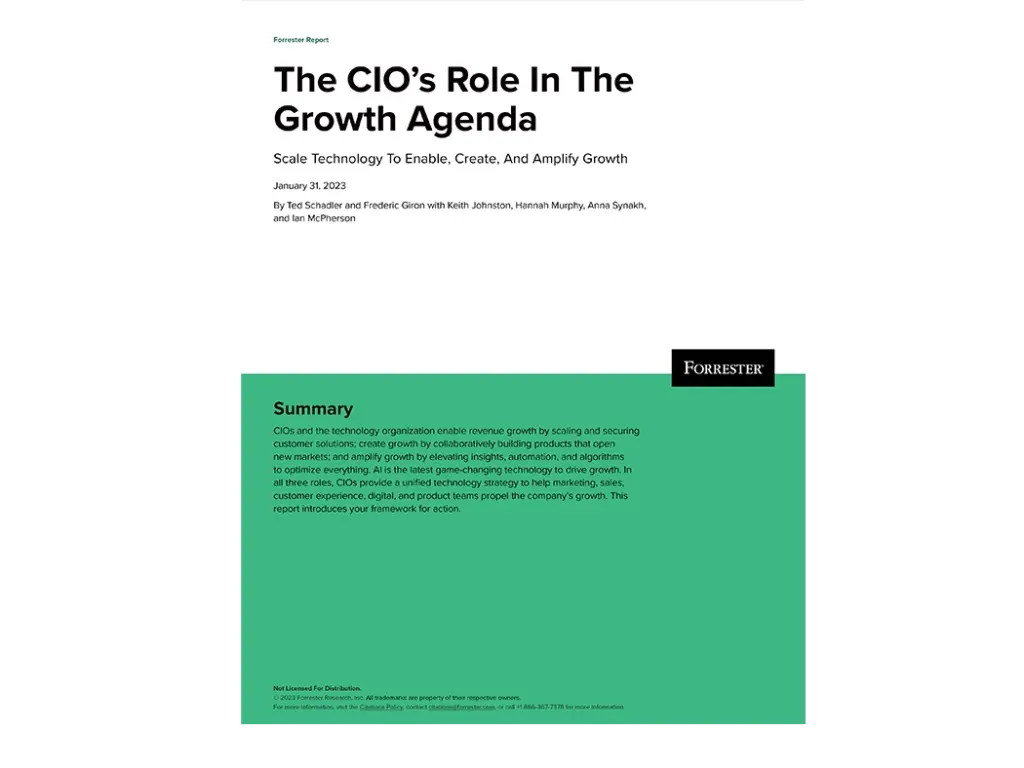 Thank you for downloading our report.