Forrester VP, Research Director Ashutosh Sharma discusses 2021 Predictions for the Asia Pacific region.
Asia Pacific
Join this on-demand webinar, where our analysts will take a deep dive into the APAC critical business trends that will help you drive meaningful growth in 2021 and beyond.
Duration:
45 mins
India
Watch our on-demand webinars, where our analysts deep dive into the dynamics that will shape 2021 and discuss critical business trends that will help you get a deeper understanding of those dynamics and discover how to harness disruption to drive meaningful change and growth.
Duration: 75 mins
Complimentary Guide: Asia Pacific Predictions 2021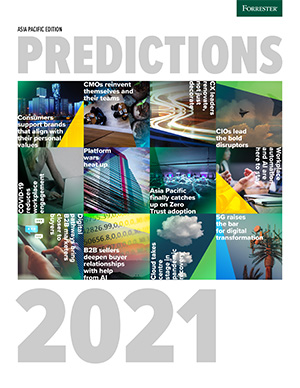 In 2020, the impossible happened over and over. Faced with seemingly insurmountable challenges, companies succeeded by employing technical agility and deep customer understanding.
Thank you!
In 2021, Asia Pacific finally catches up on Zero Trust adoption. Hear from Principal Analyst Jinan Budge as she shares a sneak peak into what security leaders must take note of for the year ahead.
Values-driven firms will rebound sooner and grow faster than profit-driven firms. Senior Analyst Xiaofeng Wang discusses how ethical marketing practices will have a positive impact on a brand's relationship with its consumers
China will become the epicentre of 5G innovations in 2021. Principal Analyst Charlie Dai shares how the technology will raise the bar for digital transformation.
COVID-19 has reduced workplace engagement, and will result in a fall in innovation in Asia Pacific firms. Senior Analyst Amit Bhatia dissects the state of Employee Experience (EX) in the region.
In 2021, the platform wars will heat up as firms shift from experimenting to pragmatically connecting the ecosystems essential to their customers. Hear from Senior Analyst Zhi-Ying Barry about what incumbent firms must do to avoid falling behind.
Blog
Forrester analysts from across the Asia Pacific region provide insights on what to expect in the year 2021.
Blog
In 2021, the pandemic will affect customer experiences and the CX profession even more than it has in 2020, especially in terms of trust, safety, and inclusion. Get a preview of our customer experience predictions for 2021.
Blog
In 2021, we predict CIOs will act more locally when it comes to tech selection and develop better employee experiences. Learn more in our 2021 CIO predictions.
Research Report
Predictions 2021: Asia Pacific
Asia Pacific Will Lead The World In Platform And Technology Adoption In 2021
COVID-19 affected Asia Pacific first, and we expect the region will also emerge from the crisis first in 2021, before the US and Europe. We also expect the region to emerge stronger as it catches up in areas like cybersecurity and employee experience (EX) and leads in new areas like platform business models and 5G business innovation.
Client Access Only