Discover the power of connecting your marketing strategy and plan
Find your marketing happy place with this on-demand webinar
Webinar
If your marketing plan isn't tied to a marketing strategy that's rooted in the pursuit of business goals, you have a bunch of tactics without a unifying purpose.
That lack of alignment between what your organization needs from you and how you'll make it happen is a big reason why "annual" marketing plans are often discarded long before a year passes.
If you struggle to connect your marketing strategy to planning and execution, watch Marketing Strategy And Planning to find your marketing happy place with this on-demand webinar.
E-Book
In B2B, the buying group rules now. Learn to adapt to this new reality.
Understand how to identify, attract, engage, and convert opportunities — not leads — for marketing success.
Blog
Does your annual marketing plan gather dust instead of generating revenue? Read this blog and learn how a dynamic marketing planning approach can help.
E-Book
Seven steps to an effective annual marketing plan
Download this e-book to explore Forrester's seven-step guide to developing an effective marketing plan.
Webinar
Alignment is key to a great annual plan
Watch our webinar to hear Principal Analyst David Parry explore Forrester's Marketing Plan on a Page and showcase a relevant case study.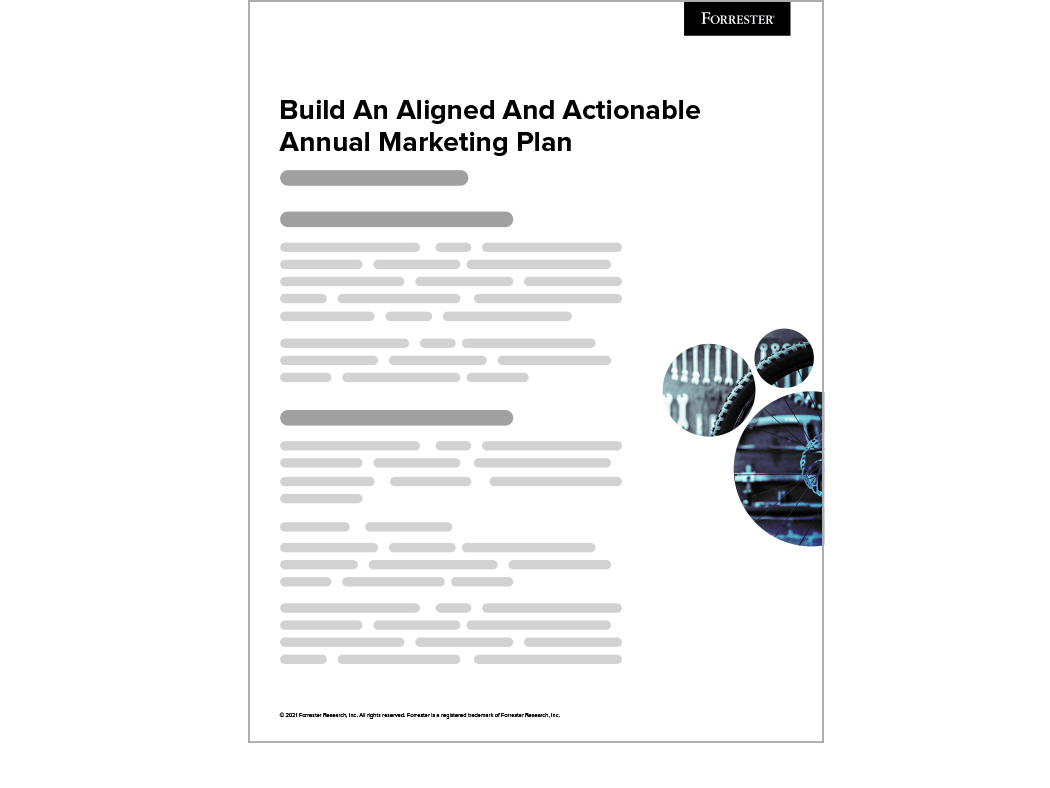 E-Book
Yes, you can build an actionable annual marketing plan on one page
Use Forrester's Marketing Plan On A Page to deliver a plan everyone can understand, align to, and successfully use.
Webinar
Don't make these annual planning mistakes
Learn how to create a flawless annual plan that delivers business outcomes and shows marketing ROI.
Blog
Read this blog to know how the Strategic Budget Allocation Process works.
E-Book
Use these six steps to maximize the impact of your marketing spend
End misalignments between your marketing planning and budget processes.
Blog
To drive more wins at the bottom of the funnel, spend more time thinking about who you target at the top. 
E-book
Forrester Decisions: A simplified service for a complex world
Hundreds of marketing execs told us what they need from a research partner. Forrester Decisions delivers it.