Charmaine Valmonte
CISO, Aboitiz Equity Ventures
A certified risk , cyber and information security professional with 30+ years of experience in cybersecurity, IT, information security and resiliency. Lead cyber-risk, develop and manage cybersecurity programs, develop highly effective teams, contribute expert analysis, strategic planning, resource management and oversight and provide mitigation strategies focused on reducing the risk of security breaches, minimize disruptions to preserve brand reputation and client confidence.
A security professional whose aim is to increase the value of existing and future programs by increasing the organization's cybersecurity posture, its personnel capabilities, optimize and develop continuous process improvements through the consolidation of people, process and technology solutions.
In her current role as CISO, her team is tasked to ensure that adequate risk mitigation strategies are in place to develop, align, and implement cyber security initiatives across the Group, in coordination with SBU CISO/IT/OT, Risk and Operations Leaders.
Lead the Group Cyber & Information Security team to strengthen ISMS training programs, and implement security technologies and processes. Continually collaborate with the Risk Management team for cyber risk assessment and business continuity management, and with the IT Committee for data, network and infrastructure security.
Charmaine joined Aboitiz Group in 2015 as Vice President and Head for IT Risk Management and Resiliency Division of UnionBank. In 2019, she joined AEV as Vice President for Information Security, Quality, and Governance where she led the development of the IT Security strategy and its implementation. In 2020, she assumed the role of Vice President – IT Security and Infrastructure.
Charm graduated with a Bachelor's Degree in Business Administration from Cameron University in Oklahoma. She received her Masters Degree in Organizational Management, Magna Cum Laude, from the University of Phoenix. She has over 21 years of experience in the U.S. Army, handling several global assignments in varying communications and security roles.
Charm also holds various IT and Cyber Security certifications such as CISSP | CRISC | CGEIT | CDPSE
| CPISI I ITILv4.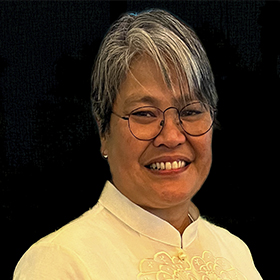 Technology & Innovation APAC · October 31 – November 1, 2023 · Sydney & Digital