The Social CEO Part Three: Some CEOs Should Be Social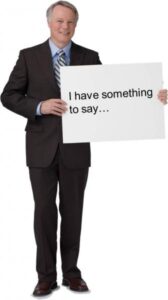 Are CEOs social? No. Are there good reasons they aren't? Yes.
Which brings us to a third question: "Should CEOs be social?"
Yes, if:
1) The CEO has something valuable and distinctive to say. Forget the corporate vapidities or pablum — the world can get that from your press releases or company site. But if the CEO has the urge and facility to be helpful, illuminating, interesting, original, and insightful, open the social valves.
But keep it in the distinctive voice of the CEO. Your customers want to know the CEO's approach before buying your products; a prospective employee wants a window into their ultimate boss's brain; and a prospective investor wants to research the CEO's philosophy before buying the company's stock. Let the CEO be the CEO.
2) The CEO is prepared to navigate thorny and unique restrictions. These come from regulators, risk-mitigators, company message concoctors, and lawyers. You can draw inspiration from the outspoken meanderings of Mark Cuban. But remember — he's not running a public company.
3) There is an audience that will, over time, tune in to the CEO's social message.
4) The CEO employs a specialized strategy for social — what I call "social light." This is a limited but powerful social profile — I'll explain in my follow-on post.
And in that final installment in the Social CEO saga, I will answer the question: "How can the CEO become social?"
Categories