You aim to better understand your customers and identify unmet needs that can drive growth and innovation opportunities. It's an ongoing effort to build, develop, and manage a world-class product management organization. Forrester can help you overcome the day-to-day challenges that you must manage along the way, including:
Staying ahead of the competition with continuous innovation.
Developing a consistent approach to understanding customers and gathering feedback.
Implementing repeatable processes for developing and managing products.
Aligning on clear roles and responsibilities with sales and marketing during the commercialization and product lifecycle process.
Effectively pricing and packaging new products, especially when delivery models change.
How Forrester Helps You Drive Business Results
Forrester helps product management leaders uncover innovation opportunities that address unmet customer needs in order to create standout product experiences and spark consistent growth across the portfolio.
Bold Solutions Built For You
Gain access to research, expertise, and guidance from Forrester so that you can anticipate what's ahead and shorten the distance between bold vision and superior impact.
Product Management Leaders
Forrester Decisions for Product Management

This service was built for you. We provide tools and frameworks to help you tackle your priorities and offer hands-on guidance from our experts so you can apply research within your organization and accelerate impact. Learn more.

Consulting

Forrester Consulting gives you the flexibility to do the work yourself or request help from experts. Our options range from quick half-day workshop sessions that help your team jump-start its work with Forrester to fully customized long-term transformation initiatives. Learn more.

Events

Preview new best-practice research, discover innovation in product roadmaps, and network with peers at B2B Summit, the premier annual gathering for B2B product leaders, sales, and marketing. See B2B Summit dates for your region.
Blog
As I round out my first year as a Forrester analyst, a trend I've noticed in my inquiries is frustration with making API programs successful. Common complaints: API documentation is poor. Adoption remains low because APIs aren't reusable. There are too many APIs because IT keeps creating new duplicative and similar APIs. Of all the […]
Read More
Blog
There will be KPIs to achieve and roadmap goals to hit, but customer-centric approaches will be critical to product management leaders' success.
Read More
Blog
"What's in a name? That which we call a rose By any other name would smell as sweet." — William Shakespeare, Romeo and Juliet, Act 2, Scene 2 One conversation I've found myself in over the past 20 years is the debate over IT portfolio terminology: Application Service Product Platform Why is this important? Because organizations use […]
Read More
Meet Our Product Management Analysts
How To Build Your Customer Obsession Strategy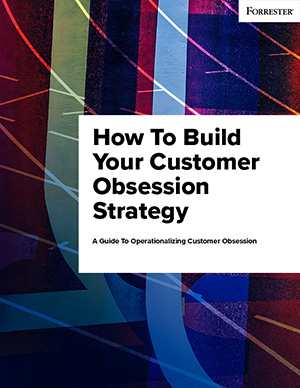 Customer obsession helps brands win, serve, and retain customers more effectively, even in a tumultuous market environment, but it's one thing to understand the concept of customer obsession — and another to operationalize it. Learn the basics of how to build your customer obsession strategy with Forrester.
Thank you!
Ready to take the next step toward customer obsession? Give us a call to learn more.
+44 (0) 2073 237741 (Europe)
+1 615-395-3401 (North America)
+65 6426 7006 (Asia)