The starting point for sales success is a clear, comprehensive strategy. Gaining internal alignment around a sustainable sales strategy is just one of the many challenges you face. Forrester helps you tackle the day-to-day challenges in between you and the success of your organization, including:
Driving repeatable and scalable growth.
Developing a consistent plan to make your number.
Finding and retaining top sales talent.
Aligning with marketing on demand and selling strategies.
Gaining clarity around the vision from the CEO and board of directors.
How Forrester Helps You Drive Business Results
Forrester empowers B2B sales executives to transform their selling strategy so they can meet modern buyers' expectations with practices that fuel repeatable, profitable, and predictable revenue growth for the business.
Bold Solutions Built For You
Gain access to research, expertise, and guidance from Forrester so that you can anticipate what's ahead and shorten the distance between bold vision and superior impact.
Forrester Decisions for B2B Sales Executives

This service was built for you. We provide tools and frameworks to help you tackle your priorities and offer hands-on guidance from our experts so you can apply research within your organization and accelerate impact. Learn more.

Consulting

Forrester Consulting gives you the flexibility to do the work yourself or request help from experts. Our options range from quick half-day workshop sessions that help your team jump-start its work with Forrester to fully customized long-term transformation initiative. Learn more.

Events

Preview new best-practice research, discover sales innovations, and network with peers at B2B Summit, the premier annual gathering for B2B sales, marketing, and product leaders. See B2B Summit dates for your region.
Blog
Yay, autumn! The time when those of us who didn't put last winter's work into building this summer's beach body can finally relax … some more. We're trying to figure out what to do with enough garden tomatoes to start a small Italian restaurant and what to do with the balance of our vacation days […]
Read More
Empower Your Sales Reps With Data
How can you equip your sales team to succeed with today's empowered, digitally savvy buyers? In this webinar, learn how dynamic guided selling can give your sales force a competitive edge.
Blog
Answers to a few common questions that we hear from clients around constructing financial models and common ways in how Forrester approaches modeling them.
Read More
Blog
Sales enablement can often be a squirrelly thing to quantify. For starters, most practitioners are compensated via the same mechanisms — quota attainment, deal size, sales cycle — that are deployed to reward just about everyone in the direct sales hierarchy: leaders, coaches, overlays, managers, and, of course, the reps and partners they support. But […]
Read More
Meet A Few Of Our B2B Sales Analysts
Quantify Your Sales Reps' Time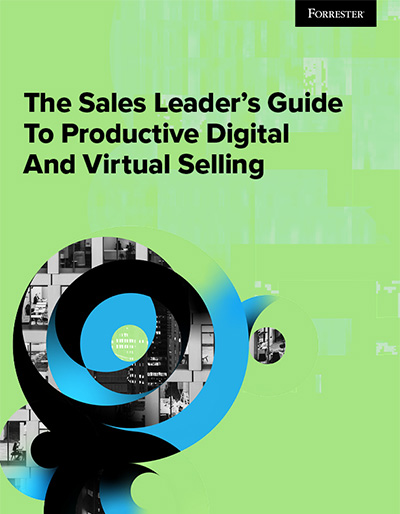 Gain clarity on your sales team's productivity by understanding how reps allocate their time.
Thank you!