You aim to justify greater CX investment while demonstrating the value and influence of CX initiatives. It takes continuous effort to master the discipline of customer experience and earn the devoted loyalty of your customers. Forrester helps you face the day-to-day challenges you must overcome to achieve success for your organization, including:
Making the case for an established CX function.
Operationalizing CX across the organization.
Linking CX to ROI and business goals.
Connecting employee and customer experience.
Embedding customer data through businesswide operations.
Hear Forrester Analyst David Truog share best-practice tips on how to design and continuously improve experiences that increase customer loyalty.
How Forrester Helps You Drive Business Results
Forrester empowers customer experience leaders to mature their organization and fuel predictable business growth with experiences intentionally created to drive loyalty across customers' most meaningful touchpoints.
Bold Solutions Built For You
Gain access to research, expertise, and guidance from Forrester so that you can anticipate what's ahead and shorten the distance between bold vision and superior impact.
Customer Experience Leaders
Blog
European organisations are under-investing in customer experience as they see CX improvement as a lower priority than their global peers. This is a mistake.
Read More
Capture Value For Customers
Identify value drivers that matter for your customers and define metrics to measure performance.
Blog
When it comes to your customer engagement strategy, digital experience (DX) and customer relationship management (CRM) teams are often viewed as different breeds with different priorities. DX initiatives have an outside-in view in supporting a customer's digital journey. DX technologies include marketing, commerce, and content management technologies that are purchased by the CMO, CDO, or […]
Read More
Blog
L'expérience client est la priorité stratégique des dirigeants marketing. C'est moins vrai en France (45% des décideurs) qu'en moyenne dans les autres pays (61%). Les derniers résultats (Septembre 2021) de notre baromètre de l'expérience client (CX Index) montrent que -dans l'ensemble- la perception de la qualité de l'expérience client est inférieure en France par rapport […]
En savoir plus
Meet A Few Of Our CX Analysts
Capture The ROI Of CX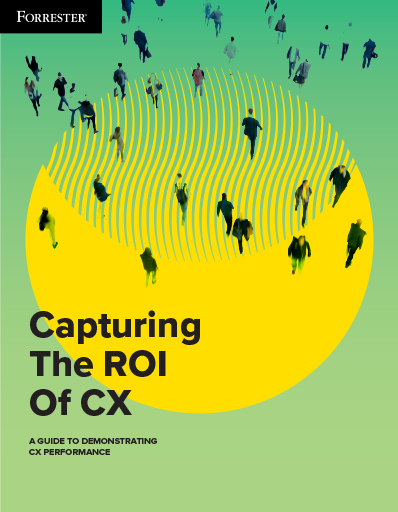 Download our complimentary guide, "Capturing The ROI Of CX," to get clear instructions on how to build a CX business case and measure financial results.
Thank you!
PDF and XLS are a zipped file.