You aim to justify greater CX investment while demonstrating the value and influence of CX initiatives. It takes continuous effort to master the discipline of customer experience and earn the devoted loyalty of your customers. Forrester helps you face the day-to-day challenges you must overcome to achieve success for your organization, including:
Making the case for an established CX function.
Operationalizing CX across the organization.
Linking CX to ROI and business goals.
Connecting employee and customer experience.
Embedding customer data through businesswide operations.
Hear Forrester Analyst David Truog share best-practice tips on how to design and continuously improve experiences that increase customer loyalty.
How Forrester Helps You Drive Business Results
Forrester empowers customer experience leaders to mature their organization and fuel predictable business growth with experiences intentionally created to drive loyalty across customers' most meaningful touchpoints.
Bold Solutions Built For You
Gain access to research, expertise, and guidance from Forrester so that you can anticipate what's ahead and shorten the distance between bold vision and superior impact.
Customer Experience Leaders
Blog
Mobile apps have become the channel of choice for millions of Europeans. Forrester's data shows that some 40% of French, 54% of Italian, and 54% of UK online adults have done their banking on a smartphone in the past month. We have been evaluating mobile banking apps for over a decade through our Forrester Digital […]
Read More
How To Scale Digital Accessibility And Expand CX's Influence
Discover how to turn a business must-have into a CX leadership opportunity.
Blog
Investigate the concepts that guide Amazon's approach to innovation. There will be elements of great relevance for your organization. You can learn from and embrace these elements to fundamentally rethink your own approach to innovation.
Read More
Blog
Incluso antes del inicio de la pandemia de COVID-19, los consumidores de México ya estaban enfrentándose a múltiples desafíos financieros y muchos se sentían preocupados por su situación financiera. La pandemia ha afectado aún más a las finanzas de los consumidores, y muchos carecen de resiliencia financiera y confianza en su futuro financiero. El bienestar […]
Read More
Meet A Few Of Our CX Analysts
Capture The ROI Of CX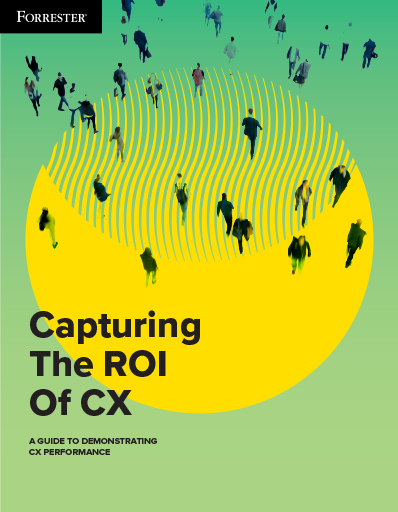 Download our complimentary guide, "Capturing The ROI Of CX," to get clear instructions on how to build a CX business case and measure financial results.
Thank you!
PDF and XLS are a zipped file.