Five Predictions On Digital In Asia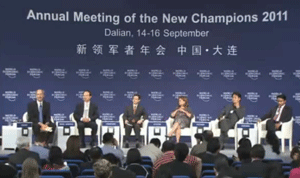 I was in Dalian, China last month at the World Economic Forum's summer event where I moderated a panel on Digital Asia. The punch line: Asia will be a center of digital innovation . . . counter-balancing the US.
My panel included Wang Jianzhou, Chairman of the biggest cell phone operator in the world (China Mobile), Takeshi Natsuno, the founder of iMode at DoCoMo, Michelle Guthrie, Director of Goggle Asia Pacific, and other distinguished panel members. You can watch our conversation on YouTube. Here are the panel's five predictions about Asia and digital:
1. Asia will lead the world into the use of e-money.
Consumers in Hong Kong — with their Octopus card — and Singapore and Japan — with the FeliCa system — already use this technology and are thriving on its efficiency and convenience. This is an opportunity for Asia to demonstrate digital leadership.
2. The digital divide in Asia will shrink.
Data from Forrester suggests that this transformation is already taking place. Internet adoption is up across Asia this year – increasing 9% in India and 13% in China. Mobile internet adoption is growing too – up 12% in China and 10% in India.
3. Internet in Asia will become more local.
Governments are beginning to communicate with local constituents via social networking. Local businesses are increasingly searchable online. Asia is already a leader in social networking. 34% of metro Chinese and 28% of Japanese mobile users access a social network at least monthly. No other country in the world is above 25%.
4. Technology will be mobile first.
Guthrie noted that Google piloted voice search on mobile devices, because that's where it's most needed. Asian companies and visionaries will center innovation on mobile – not the desktop.
5. There will be innovation, but not of the Steve Jobs genre.
Half of the panelists believed that there will never be an Asian Steve Jobs – the importance of the community over the individual make it unlikely. However, Wang predicted transformative change coming from Asian developers and entrepreneurs in the next five years.
What do you think? Will Asia be more or less important to the digital world in the future? What could stand in its way?
Categories