For You And Your Organization
There are two ways you can use B2B marketing certification courses to align your team and move faster together:
Available courses:
Deepen Your Understanding
Forrester certification courses are a fast and scalable way to align your team on key definitions and frameworks by discipline. Each course includes:
Self-paced, online lessons built for practical application to your real-world challenges.
Timed, 60-day cohorts that bring together peers from multiple geographies and industries.
Content that adapts to suit executives, experienced, and novice team members.
Forrester certification as proof of you and your team's accomplishment and specialized skills.
Based on the research presented in this course, I can make the case to our CEO that marketing is a primary revenue driver.

— B2B Marketing alum

Accelerating B2B Marketing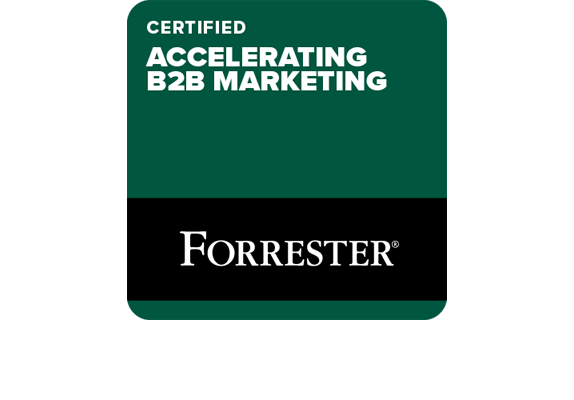 Topics Covered In Accelerating B2B Marketing 
Explore B2B Marketing In Today's Business Landscape
Examine the core elements of B2B marketing and how the function operates in today's business ecosystem.
Target Personas To Develop A Winning Go-To-Market Strategy
Determine the buyer roles that your organization should target and the insights that should inform your strategies.
Uncover The Nuances Of The Buyer's Journey
Understand the components of a buyer's journey to structure a sequence of activities that will enable buying decisions.
Understand Demand Management
Learn how and where the buying groups with the quickest potential for revenue should influence your marketing strategies.
Design An Audience-Centric Campaign Approach
Learn how to orchestrate an integrated campaign that aligns the marketing organization and drives results.
Calibrate B2B Marketing Measurement
Learn how to demonstrate the full scope and value that the marketing function contributes to the business.
Improve how you target, engage, and enable buyers and buying groups to deliver pipeline momentum from your demand and account-based marketing programs.
Mastering Demand & ABM is available as a one-time course experience or as part of Forrester Decisions for Demand & ABM.
The next course begins on December 5. Register by December 21.
Forrester account required for registration. Sign in or create an account.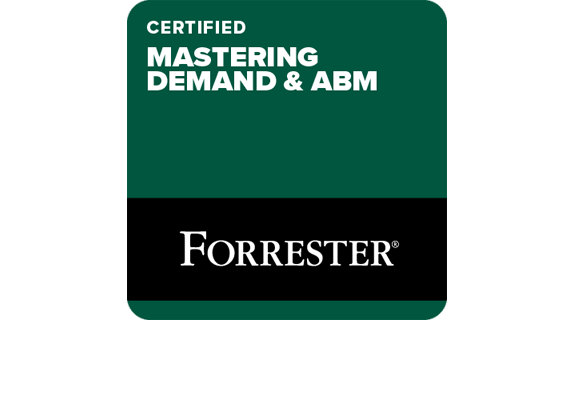 Topics Covered In Mastering Demand & ABM 
Revenue Engine Optimization
Create a distinctive process to measure, manage, and improve demand efforts through the Forrester Demand Unit Waterfall.
Demand & ABM Strategy And Modeling
Review demand spectrum strategies with tools and templates to simulate results and set accurate expectations.
Real-Time Buyer Enablement
Reach and engage buyers in the right way, at the right time, across the buying decision process.
Demand Program Design And Execution
Use the Forrester Program Pendulum Framework to ensure that your demand programs are the best they can be.
ABM Program Design And Execution
Develop concrete, specific ABM account plans that target the right audience with the right message to drive desired results.
Content For Demand & ABM
Transform outdated content processes and technology into competitive growth drivers for your business.
Mastering Portfolio Marketing
Create deep market and buyer understanding throughout the organization by focusing on buyer personas and their needs. Maximize go-to-market performance with audience-centric positioning, messaging, and product launch programs with impact.
Mastering Portfolio Marketing is available as a one-time course experience or as part of Forrester Decisions for Portfolio Marketing.
The next course begins on December 5. Register by December 21.
Forrester account required for registration. Sign in or create an account.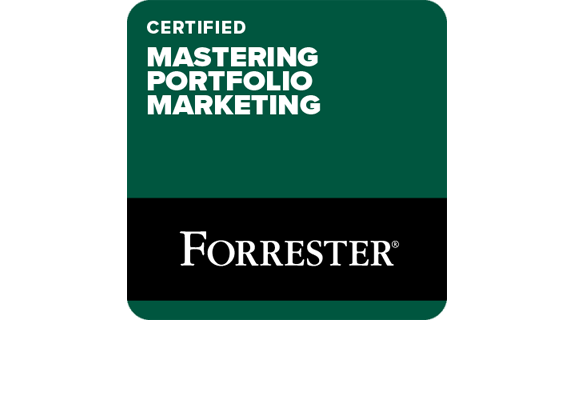 Topics Covered In Mastering Portfolio Marketing 
Understand Your Market​
Gain a clear picture of the competitive landscape and develop a prioritized strategy for short- and longer-term portfolio growth.​
Know Your Buying Audience​
Prioritize the ideal buying groups for your offering and take an audience-centric approach to align product, marketing, and sales as you plan your go-to-market strategy​
Design Buyer Journeys​
Capture the key buyer insights you need to round out your knowledge of your buying audience and create engaging buyer experiences.​
Craft Messaging That Motivates Buyers​
Use your deep understanding of your buyers to craft impactful messaging that moves buyers from business problem discovery to decision and purchase.​
Enable Your Teams And Organization​
Identify the right roles in your organization to enable, determine what knowledge to enable them with, and build a process to focus your enablement efforts for the greatest impact on buyers.​
Create Your Product Launch Strategy​
Develop a launch strategy that aligns your company's functions and incorporates proven steps in go-to-market planning so you can maximize business value.
Learn more about B2B Marketing Certification
Thank you for your interest in our B2B Marketing Certifications courses. We will be in touch with more information and to answer any questions that you may have.