Accelerate your CX Transformation
The research is clear: better CX drives better business results across industries as diverse as banking, internet services, and retail. When customers have a better experience, their intentions to stay with a brand longer, buy more from that brand, and recommend that brand all increase. CX Essentials helps you accelerate your CX transformation across your organization to create new cultural norms and enable change.
Spur buy-in and create a shared mindset
Connect everyday actions to your CX vision to effectively mobilize change within your organization.
Inspire action on your CX initiatives
Educate employees on the value of CX using familiar language and your specific artifacts.
Engage your employees
Deliver an engaging experience they'll remember.
Give CX-specific teams a deeper foundation in CX principles through the CX Certification program for teams.
How enterprise-wide programs work
Forrester provides a research-based course curriculum that can be tailored to meet your organization's needs. The course uses a combination of short videos, quizzes and reflection exercises to provide a dynamic, branded experience that is intuitive and mobile-friendly.
Feature Forrester's foundational CX curriculum based on more than 20 years of CX expertise.
Include custom messages delivered by your executive sponsor or team​ lead.
Add your own assets to create a learning program that drives cultural change.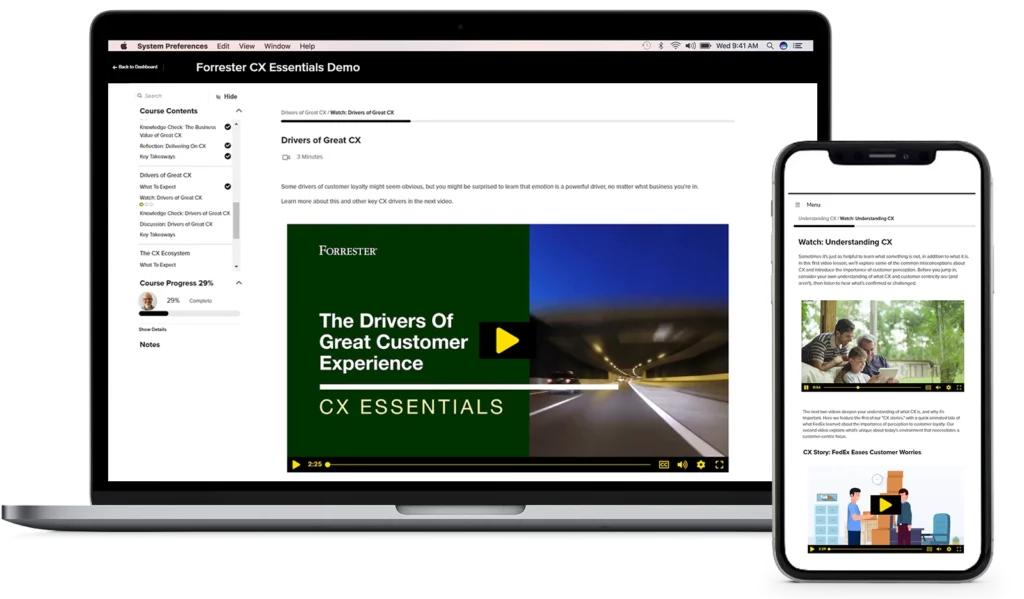 The CX Essentials course curriculum covers:
Understanding CX
The Drivers of Great CX
The CX Ecosystem
Listening and Responding to Customer
The Business Value of Great CX
Optional Addition: CX at Your Company
Learn More About CX Essentials
Thank you for your interest in our CX Essentials course. We will be in touch with more information and to answer any questions that you may have.