For years I have written notes to Forrester clients about technology, business, and the future — this blog will now carry many of those thoughts. Why "Counterintuitive?" My earliest mentor, Howard Anderson, founder of the Yankee Group, taught me that the most valuable analysis looks at the world in new ways — questioning prevailing sentiment. I've got three "counters" in mind for this blog: 1) The lunch counter. I want to stimulate a commonsensical conversation about complex ideas — in the simple language of the diner. 2) Counting. I will be surfacing lots of Forrester data that challenges common beliefs. 3) Counter…to the conventional intuition.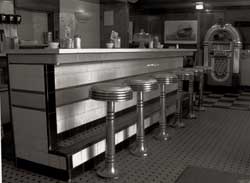 I will seek to serve four roles: CEOs, Chief Information Officers, Chief Marketing Officers, and Strategy Professionals.
This is a test. I aspire to originate valuable analysis and conversations at this blog. If not, I'll find a different medium.
George
Categories