CIO best practices for thriving in a recession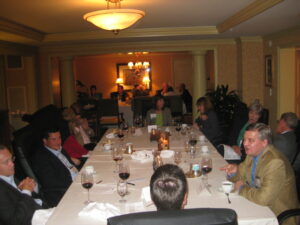 I hosted a dinner last night at Forrester's Business and Technology Leadership Forum here in Orlando. Great discussion with 12 CIOs, several CMOs, and a vendor CEO. When we weren't passionately debating politics, we spent time compiling recession strategies — the best ways of riding out a potential economic slowdown.
First of all, many in the room have no plans to slow down their technology budgets for 2009. While the low was a -6% plan for next year and the high was a 30% increase, the average was a 6.5% increase — almost dead on the Forrester estimate for 2009 tech spending increase. Many CIOs are in the middle of re-building infrastructure, implementing new applications, and modernizing data centers — projects that are hard to stop on a dime. That said, there was a lot of wisdom in the room about best practices for a recession. Here are some highlights:
1) Outsourcing is not a silver bullet. Use the recession to build internal skills.
2) Use a slowdown to improve the team — look to bring in great people who have been laid off elsewhere.
3) Avoid the "Dead Sea effect."  As IT consultant Bruce Webster has noted, the Dead Sea has an inlet, but no outlet, so most of the pure water evaporates, leaving brine. Don't let your best people evaporate in a recession.
4) Cut training and development last. That resource is critical to success in the post-recession period.
5) Use a recession to make tough decisions — to get rid of redundant and non-performing vendors, and to cut low-performing employees.
6) Accelerate virtualization and other IT/BT efficiency measures.
7) Re-double efforts to add value. Sharpen ROI metrics, publicize IT/BT victories, honor and award great performers, intensify collaboration between technology and business. Use this time to be more visible with the CEO, not less.
8) Hire the great MBAs that would have gone to Wall Street.
9) Look for vendor discounts and re-negotiate contracts when possible.
How will the financial crisis affect these companies? Most need credit to expand — to build new hotels, new hospitals, new stores — they will be adversely impacted if that credit doesn't start to flow again. But that said, these executives, most of whom navigated the 2001-2003 recession, felt prepared and planful as they look to uncertain economic times.
Any other recession best practices out there? I'd love to get your ideas and thoughts.
Categories