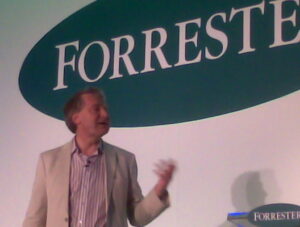 I'm at Forrester's IT Forum EMEA, being held in Lisbon. Over 600 CIOs, enterprise architects, application developers, infrastructure and operations professionals are here — and lot of great content.
Just got out of session with Paul Coby, CIO of British Airways. Here are some quotes/ideas from Paul that caught my ear:
"There are no such things as IT projects — there are only business projects."
"SAP is the highest cause of fatalities among CIOs."
"BA as a company apologizes for the problems that we may have caused many of you traveling through Terminal 5 (T5) at Heathrow — but things are definitely improving."
"Watch out for 'IT Everywhere.' IT is in everything now and if you're the CIO, it's ultimately all your responsibility. So when the baggage-handling systems at T5 didn't work, we were called in — because  although the systems were primarily electro-mechanical, they were commanded by information systems. There's also lots of embedded IT on BA's planes — and IT is getting more involved in their design and operations."
"When you launch a project of the scale of T5, focus on people training. Train everyone to where you think they should be, and then triple it."
"YouTube now uses as much bandwidth as the entire Internet, circa 2001."
"Online ticket sales are important for BA, and the volumes are still increasing. But the real importance of the Internet for BA has been in customer service — which is exploding in volume, and helping to lower our cost."
Paul's biggest breakthrough is getting his legacy systems under control so he could focus on new work. He has successfully flipped his investment from 70% running the old stuff and 30% new work to 40% legacy and 60% new. And that ratio is making it possible for his IT team to truly engage in innovation.
When he went in for his yearly review with the CEO of BA, Willie Walsh, Paul came armed with an 80 page briefing book. But Walsh pushed it away and asked one simple question: "How did you make the airline a better place this year?" Answering that question helped Paul see himself not as a leader of IT, but as a leader of Business Technology (BT).
Paul's work is paying off. In a recent interview between Henry Harteveldt of Forrester and Sir Richard Branson at Virgin, Branson noted that BA beat Virgin to the punch with lie flat seats in Business Class.
What to you think about BA's service? Is Paul's move from IT to BT actually impacting the customer experience? Are you ready to forgive BA for the T5 mess? I'd love to get your thoughts.
Categories