Choose The Right Global Omnichannel Contact Center Outsourcer
Contact center outsourcing is dead! Long live contact center outsourcing! A combination of brands' moves toward true customer obsession and the advent of conversational AI and other automation such as robotic process automation (RPA) form an existential threat to the traditional business models for contact center outsourcers. Cheap labor and hyper-efficient processes don't always lead to the best customer service experiences — we've all likely had calls with contact center agents in far-off locations that felt like nothing so much as visiting a medieval barber/dentist. In the age of customer experience as a dominant principle for enterprises, such experiences don't cut it any longer. And the ability of these new automation technologies to make customer service organizations smaller could reduce the urgency for brands to work with outsourcers just for labor arbitrage.
With all that said, surprisingly enough, interest in contact center outsourcing is on the rise. For example, global telco decision makers we surveyed plan to outsource 45% of their contact center seats on average next year, compared with an average of only 39% this year. So, what's up?
A good chunk of that increased interest comes from new services that outsourcers offer that go beyond the old "butts in seats" model. The leading outsourcers now develop their own technology to gather, store, analyze, and use context, creating engaging experiences as customers jump from channel to channel. Those outsourcers have built expertise with the digital channels that customers are clamoring to use for customer service, such as web chat, messaging, social media, and video. They now offer AppDev services, content moderation services, and new service delivery models, such as gig work or work-at-home approaches, to provide flexibility to brands.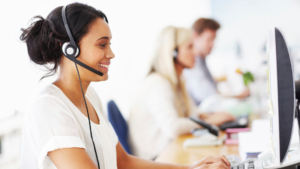 In the age of the novel coronavirus, brands are also likely to look to outsourcers as a source of resiliency for their customer service organizations. Global outsourcers have well-defined and highly robust resiliency planning. If a typhoon slams into the Philippines, the outsourcer can shift work to Honduras or Colombia or onshore to the US or UK. While the coronavirus creates many new challenges for brands, outsourcers can certainly help with keeping the customer service organization operational.
There is an elite class of contact center outsourcers who are combining all these strengths: global reach, AI and automation know-how, technology development chops, consulting expertise, and strong skills in omnichannel operations. Forrester has published its newest evaluation of the 10 leaders in this market. Use this Forrester Wave™ to help you evaluate vendors based on your strategy and business needs. If you're a Forrester client, please check out "The Forrester Wave™: Global Omnichannel Customer Service Outsourcers, Q1 2020" and the preceding "Now Tech: Omnichannel Customer Service Outsourcers, Q1 2019." If you're interested in learning more about our findings, set up an inquiry with inquiry@forrester.com.
Categories