Creative Media Outshines The Technology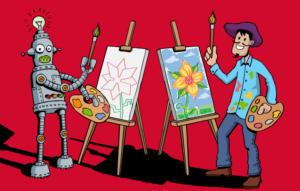 The excess of adtech and martech such as demand-side platforms (DSPs) and data management platforms (DMPs) gives marketers all the control and insights required to run efficient and effective media campaigns. The prospect of marketers owning their data and putting hands on keyboards for digital campaigns calls into question the real need for media agencies.
Why, then, do so few marketers run digital media operations? Only 22% of corporations have stood up programmatic media operations compared to 95% offering creative services, according to research from Forrester and the In-House Agency Forum. Media, as it would seem, is not as simple as point, click, buy. It requires savvy, expertise, and judgment to run a successful digital media operation. The humans still really matter in media agencies.
Creative Media Is On The Rise
Our latest report about media agencies — "The Forrester Wave™: Full-Service Media Agencies, Q1 2019" — illustrates the value agencies are building beyond technology and buying power. Agencies are harnessing the power of technology and applying it creatively to connect the medium, the message, and the moment. Whether precision or persuasion, the very best agencies add creative media when they do the following.
Merge Media, Creative Content, And Consumer Context
We noted that nearly all full-service media agencies provide content development and strategy. Creative media agencies link the essence of the brand with the context of the consumer. MullenLowe Mediahub's work for Netflix's "Black Mirror" used display ad units that hacked ad blocking technology, merging the message with the series' theme of societal dependence upon technology.
Translate Buying Power Into Buying Savvy
Leverage in the media market used to be solely reflective of size and buying power. Technology has added new layers of complexity to leverage, including ad fraud, inventory, and transparency issues. Creative media agencies buy smarter and take these issues head on with private marketplaces that include prenegotiated rates and inventory and proactive third-party audits. Horizon Media hired PwC to audit its standards and validate the agency's transparency for marketers.
Close The Loop On Accountability
While AI and machine learning have made strides in automated tedious tasks, they have yet to create a killer media campaign. Media campaigns are only as intelligent as the insights and customer understanding that the agency possesses. Creative media agencies apply that level of intelligence and combine it with intuition across planning, buying, optimization, and reporting, making every effort to close the loop. Assembly custom-builds econometrics for clients looking to understand the impact of media and marketing across their business.
Integrate Execution
For media and content to be effective, it must flow freely though platforms and devices in accordance with consumers' expectations and altered consumption habits. Creative media agencies understand how to interweave execution with expectations. PHD and Droga5's campaign "Do You Mean Mailchimp?" brilliantly places nine digital experiences into popular culture through fashion, entertainment, music, food, and beauty.
Creativity is finding new ways once again. Based upon the results of this report and a coming report titled "Desperate For Differentiation: Creativity Activates The Total Brand Experience," we believe creativity is the central differentiator in the agency marketplace. CMOs and marketers evaluating their media agency partnerships should look for agencies that embrace a creative approach across their technology, insights, and activation.
Related Forrester Content
Categories