VP, Group Research Director Melissa Parrish: "I Always Knew Forrester Was My Home"
Forrester Boomerangs: A Q&A Series
One in 10 Forrester employees is a boomerang, a former employee who has rejoined the company. Boomerangs are an important part of Forrester's cultural fabric, bringing new skills, fresh perspectives, and a rekindled passion to their roles. Our Boomerang Q&A series highlights the stories of some of the people who have made their way back to Forrester.
Career paths are not always linear, even within the same company. When VP, Group Research Director Melissa Parrish returned to Forrester in 2016 after having explored other opportunities, she took a less senior position than the one that she had left 17 months earlier. But the skills and perspectives she gained during her detour, combined with a boldness to test new ideas, were foundational to her charting an exciting new path within Forrester.
In our inaugural Boomerang interview, Melissa, who oversees Forrester's B2B sales, product, and digital business and strategy services, describes her journey and lessons learned. She also offers advice for others considering Forrester as their next career step.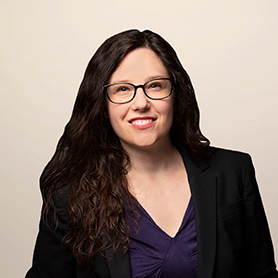 Q: What first brought you to Forrester?
MP: Before joining Forrester in 2010, I was the head of social and emerging media at Time Inc. Interestingly, that position was created as a result of a Forrester consulting engagement. While I was at Time, I got to work with a few longtime Forrester analysts, which was an amazing experience. When a position opened for a social media analyst at Forrester, I jumped on it.
I focused on social marketing exclusively for about a year, then picked up mobile marketing, as well. I was promoted to senior analyst and then, after around three years at Forrester, was promoted to VP, research director for that team.
When you're in research at Forrester, you're surrounded by people who are thinkers and philosophers by nature. No matter where you sit on the org chart — whether you're a research assistant or a vice president — your ideas are encouraged, welcomed, and incorporated.
Q: What was the next step in your career path?
MP: At the time that I left Forrester, in 2014, I was interested in learning more about how business works, especially on a leadership level. I understood the research process and loved the research process, but I also wanted to learn about finance and how budgeting and hiring decisions are made. I spoke with my boss, the group director, to see if there were any internal opportunities available; at that moment, there weren't. But there was an opportunity to learn those skills outside of Forrester.
Even then, though, my plan was always to come back to Forrester. I always knew this was my home and that I wanted to take what I learned and come back. It was a risk, of course, since I didn't know how long it would be before there was a spot to come back to.
Q: What made you feel that way about returning to Forrester?
MP: The culture. More specifically, the people. When you're in research at Forrester, you're surrounded by people who, yes, are very smart, but more than that, they're thinkers and philosophers by nature. No matter where you sit on the org chart — whether you're a research assistant or a vice president — your ideas are encouraged, welcomed, and incorporated. That certainly is not the case everywhere. But those conversations are, to me, where the culture starts.
Q: What circumstance brought you back to Forrester?
MP: I saw that a vice president, principal analyst role within my coverage area was open. I reached out to my former colleagues, and they encouraged me to apply, so I went through the process. It didn't matter that it was an individual contributor role and that I had left as a research director [which is a manager role]. I so badly wanted to come back to Forrester, and it seemed like a great opportunity.
At the time, I had three other job offers. But when my group director asked me if I wanted to come back, I said "yes" on the spot. It wasn't even a decision.
Q: What new skills did you bring back with you?
MP: I learned the business and financial skills that I set out to learn, and they're absolutely crucial to my current role as group research director. But the biggest thing I gained was perspective. No company is perfect, and it wasn't until I left that I realized how small the things I wanted to change were compared to the changes that should be made at other companies.
For example, I had appreciated the candor that my managers at Forrester had shown, but I couldn't fully articulate that until I saw the opposite outside of Forrester. Very little good comes from being overprotective of your team and shielding them from bad news — if there's information you can give to people that is crucial to them feeling like part of the team, give it to them, and trust them to be adults and to make their own decisions. That realization has helped me learn how to respectfully, professionally, and appropriately build, manage, and grow a team.
Q: How else has Forrester challenged you and pushed you to grow?
MP: Six months after I came back, one of the research directors in my group left. Since I had experience as an RD, my group director asked me to step up temporarily until they could fill the role. While I was filling in, I had an idea to manage the team and goal-setting in a different way. I presented it to my group director and the senior vice president of research, and they basically said, "That sounds crazy, but go for it and see what happens." So I did. It worked in some ways but not others. We learned a lot. No one faulted me for the idea not completely working. Instead, they said, "Wow. That was really cool that you swung for the fences."
The next thing I knew, my boss was leaving his role for another position within Forrester, and he asked me to be his successor.
Q: Wow! Was that a surprise?
MP: I was shocked. I wasn't expecting another move up; I was having fun trying new stuff. But given everything that I learned through trying that wacky idea, my management chain saw something in me that I did not have to rigorously self-advocate for. And that's indicative of Forrester's culture: the constant process of senior managers seeing potential in people and helping them elevate it.
Q: What else do you think sets Forrester apart?
MP: One thing is the ability to move around. When I left Forrester, I was a research director; when I came back, it was to an individual contributor role. I think it really is unique that we give people an opportunity to try on a management hat. If it doesn't work out, they can go back to being an individual contributor. It's not up or out at this company.
But there are other people here who have gone from research to sales, sales to consulting, or have held several different roles in many different departments. I just think that's super cool. Not a lot of companies allow the kind of mobility that Forrester does.
Q: Many of the people who become Forrester analysts have, like you, worked as practitioners. What pointers would you give to help them navigate that shift?
MP: Every single new analyst has impostor syndrome. It's impossible not to, especially if you've come from a practitioner background. How much time have you had to spend proving that the thing you want to do is right and explaining how you would do it? Often by bringing in a Forrester analyst. When, all of a sudden, you're that third party, it can feel very strange.
Having that kind of authority comes with great responsibility. Big companies will do what you say — and that should make you want to be totally certain of the advice you give and totally honest when you're not totally certain about the advice you give. If you're feeling a bit uncomfortable, you're doing it right. It's incredible once you embrace that.
Q: What else would you tell someone who is considering Forrester as their next step, whether in research or another role?
I want people to know that you get the most out of Forrester when your heart is really in it. Once you embrace how Forrester works and the attributes of the people around you, that's when you grow as a human, along with growing your skills as a professional.
Categories