SiriusDecisions EMEA Summit Day One: Highlights
Today, SiriusDecisions began its fourth annual EMEA Summit, which drew more than 350 delegates to London's Grange Tower Bridge Hotel. Held just a stone's throw from the landmarks of the Tower of London and Tower Bridge, Summit is bringing together senior executives from across Europe to focus on B2B marketing, sales and product issues and best practices.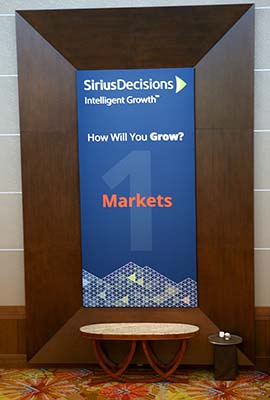 Here are today's highlights:
The welcome address was given by SiriusDecisions co-founder and managing director Rich Eldh. The theme of this year's Summit, "Aligning Sales, Marketing and Product," is increasingly important as the Web changes the way buyers gather information and how and when they engage with suppliers. More of these interactions are happening online, so the need for tighter alignment has never been greater. Rich outlined how investment in a collaborative and coordinated approach to product innovation, sales enablement and marketing execution will drive top-line growth.
Next, keynote speaker Massimo Sangiovanni, marketing vice president for Europe and Africa at Motorola Solutions, shared his organization's demand generation model, which includes the SiriusDecisions Demand Waterfall.
Next up was Marisa Kopec, VP and group director at SiriusDecisions, who presented "B2B Content: The Revolution Is Now." The presentation explored how content – the engine of modern B2B marketing and selling ­– should be optimized within an organization. Marisa discussed the interlocks required between sales and marketing to ensure content is used and valued by reps and partners, and harnessed to drive increased sales productivity. Marisa also spoke on how best-in-class B2B organizations are measuring the effectiveness of their content engines, how the marketing and product management ecosystems must be adapted to support the new content reality, and how content strategy and architecture must shift in order to fuel increasing inbound marketing requirements.
The penultimate session of the day, "The Re-architected Waterfall, One Year Later," was led by SiriusDecisions' senior VP of research Tony Jaros. To address major developments within demand creation ­– namely, the positive growth of inbound marketing, the evolving role of the teleprospecting function and the need to measure demand sourced from outside marketing – SiriusDecisions introduced an updated version of its groundbreaking demand waterfall in 2012. One year later, Tony presented updated stage-to-stage conversion data, as well as insight from organizations that have moved to implement the re-architected waterfall.
Concluding the day's proceedings was SiriusDecisions research director Meta Karagianni, who presented "The Current State of Demand Creation Techniques in EMEA Markets." To achieve growth, EMEA marketing teams must develop an end-to-end demand creation capability that aligns with evolving B2B buying behaviors. Moreover, marketing must meet the distinct needs of multiple countries, cultures and markets in different states of development. Meta presented key findings from a recent SiriusDecisions EMEA demand creation study. Among other things, the survey explored what tactics and actions B2B practitioners consider most effective in each stage of the buying cycle. Meta also offered delegates a contrasting buyer's view. Together, these views show the current discrepancies between buyers' demands and sellers' deliverables.
After a hard day of learning and networking, delegates continued the dialogue over cocktails and dinner before having an early night in preparation for day two tomorrow!
Categories