What Enterprises Can Learn From Campaign Spam
Have you received a text from a political organization that seems like spam? Something like this?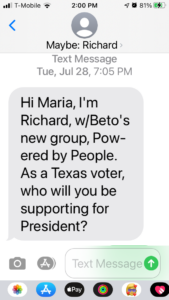 Campaign calls and texts are exempt from do-not-call list requirements, but there are still specific rules that they must follow, such as that campaign-related auto-dialed or prerecorded calls are allowed without prior express consent only when they're made to landline telephones. As the population of US voters with a landline phone dwindles, campaigns have modernized their outreach methods.
"Robo-texts," like robo-calls, require the receiving party's prior express consent as well … unless an individual manually sends each message. That means the person who says they're sending you the text actually is.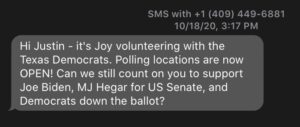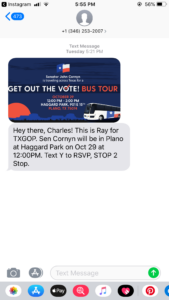 They're doing so on a platform that simplifies the sending process and automatically fills in text messages for the volunteer or staffer based on how you respond, but a person is still clicking the "send" button each time.
Most of these campaigns violate every best practice that Forrester advocates to its commercial clients. However, Forrester clients can learn a lot from opting into these programs and asking themselves, "Is the frequency annoying?" "Is the faux personalization annoying?" "Did I contribute to a campaign?" and "Did I opt out because I was so annoyed (and then became frustrated that I couldn't other than from those with official short codes)?"
Forrester's Mobile Messaging Best Practices lists 17 dimensions that outstanding mobile messages do well on, but we'll focus on how these texts perform in the four core categories: getting started, design, content, and management.
Getting started. The first step for most mobile messaging is earning the trust and permission of your customers, which happens more naturally when individuals are required to opt in to receiving texts. Some political organizations try to combat the initial feeling of distrust that occurs when a stranger texts you by sending mobile messages that are personal and humanizing.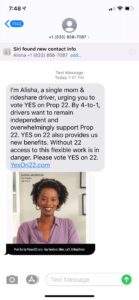 Every mobile message should drive action, and for that to successfully happen, the text should make the action as simple as possible. The calls to action should involve a single click to call, open an app, or access a web page without further navigation. A good example of this is: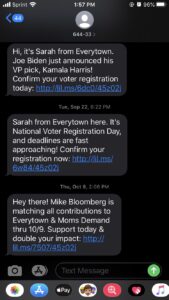 Mobile messages should communicate effectively without being incredibly long. The general rules of thumb: Offer as much information as you can to avoid further clicks to get the full message, and match your tone to the message. The text below is addressed to young voters, and it tries to engage and excite this target demographic by incorporating emojis.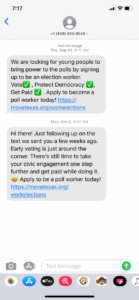 Communication should be orchestrated across channels to avoid unintentionally sending duplicate messages or overwhelming consumers with too many messages. The example below shows a follow-up message that acknowledges that a previous text was sent instead of sending the exact same message repeatedly. While those details make the text more successful from a management point of view, the text fails to mention the organization that the text is coming from or provide a way for the receiver to complete the action in the text.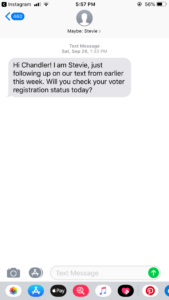 There is no other channel that more consumers use than SMS. While some texts manage to do well in one of the main categories, it's rare that a text is great across all four. Check out "Mobile Messaging Best Practices Illustrated" to understand how you can more effectively engage with your audiences.
(Research Associate Alessia Stewart coauthored this post.)
Categories