10 Weeks With SiriusDecisions: An Intern's Reflections
SiriusDecisions' internship program was truly an educational experience
After spending the summer learning about B2B, I will return to school for my final year with a leg up on my classmates
Every day I spent interning with SiriusDecisions I learned something new about the fields I was working in – and learned something new about myself
During the summer entering my senior year of college, I spent 10 weeks interning with SiriusDecisions in its editorial and consulting departments. In the final days of my internship, I have been doing a lot of reflecting on my experiences at SiriusDecisions and what I have learned about myself. I can truly say that my day-to-day job duties helped me gain skills and knowledge that I will use for the rest of my life.
In the editorial department, a fellow intern and I were tasked with mapping research on SiriusDecisions' client portal to enhance the search experience, as well as helping to edit new research to be published for our clients. While mapping the research, I was asked to pick topics to assign to each piece of research. In the early days of the internship, I found this to be very difficult, but after reading the briefs and other research I was mapping, I found myself becoming more comfortable with picking topics and gaining new knowledge in the process. Every piece of research I read taught me something about business that I had not understood before – all of which I will be able to use in whatever I do in the future.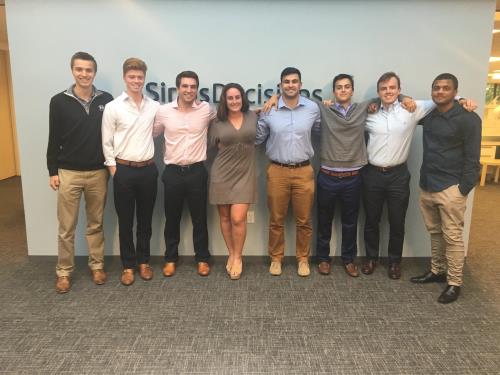 Editing new research not only gave me more opportunities to read research, but also helped me refine my critical reading and writing skills in the process. This was another area where, as my internship went on, I became more comfortable; I started by adding in little fixes to research as I proofread it, but by the end I was making more significant changes to improve the readability of the research, benefitting our clients.
In the consulting department, my main task was writing case studies based on interviews I conducted with our consulting directors. In total, I wrote 11 case studies and interviewed eight consulting directors across all different practice areas. Being able to speak with consulting directors based across the United States and in EMEA was such an amazing experience for me. I learned about the day-to-day work involved in being a consulting director and got a glimpse into the application of the models and frameworks SiriusDecisions has created.
One topic I asked the consulting directors about was the impact that each consulting engagement had on the client. Hearing how satisfied the clients are and how they have applied what we gave them to yield results proved to me that what we are doing at SiriusDecisions is truly making a difference for our clients. These case studies will be used as marketing and sales assets – which will hopefully lead to more clients utilizing our consulting services and reaping the benefits of these services.
For both the editorial and consulting departments, I knew that everything I was working on over the course of the summer had an impact on the company. This was such a satisfying feeling, especially compared to some friends who had internship experiences elsewhere where they didn't feel they were working as part of a team. All the work I did this summer was valued by everyone I was working with, and I was always treated as a member of the team. In meetings, my opinion was valued by my colleagues, and my feedback on research was always encouraged. The SiriusDecisions executive team gave presentations to the entire intern class, and all of them were very approachable and more than welcoming to us. They all took the time to answer any questions we had and made themselves available to meet if we wanted to. I don't think many other internships offer this type of experience.
For any incoming interns, I would encourage you to do the following things: ask as many questions as possible, learn as much as you can, and find a way to add value to the company with everything you do. Asking questions is one of the easiest things you can do to ensure that your work is done correctly. I can guarantee a manager will be happy to answer your questions and prefers that you take the time to ask rather than risk doing something wrong and having to go back and do it all over again. An internship shouldn't just be a summer job; you should gain knowledge from what you're doing. All the people you are working with have something to teach you, which will only benefit you in the future. Be open to learning everything new they are willing to share with you. If you can find the value you are adding to the company in everything you are doing, it will make that task infinitely easier. Thinking about what it will do for the company will make completing it that much more satisfying.
I've been so fortunate to spend my summer with such great people and know that everything I've done this summer will benefit SiriusDecisions – and myself.
Categories