Asia Pacific MSS Firms Are The New "Minions" In "The Incredibles" Suits
For many years, managed security services providers (MSSPs) have been sold as shining knights and superheroes that will come to the rescue and solve all of your security problems. From what we have seen, this is far from the truth, and most MSSPs have not been able to provide a consistent client experience. The problem has been exacerbated by "Minion Like Me Too" — MSSPs that are not able to differentiate their offerings from their rivals. Both of these issues have led to client dissatisfaction from MSSP buyers who have been burned too many times.
My latest research, The Managed Security Services Landscape In Asia Pacific, Q3 2022, analyzed MSSPs in the region and 25 key themes. The research revealed:
A steady increase in MDR adoption. We have seen a steady increase in the adoption of managed detection and response (MDR) and integrated monitoring, which covers hybrid-/multicloud environments by MSSPs in Asia Pacific.
MSSPs are still hung up on anarchic pricing models. In Asia Pacific, one of the challenges faced by the clients is the opaque pricing models, and the ROI discussions often lead to further confusion. The clients often feel shortchanged about the quality of service that they have been receiving. Some MSSPs are bundling simplistic, value-based pricing models that offer more transparency and result in higher client satisfaction.
More clients are using MSSPs to get access to the latest tools. Organizations in Asia Pacific engage MSSPs to get access to security solutions with the latest bells and whistles. They are not only looking for traditional MSSPs based on technology capabilities stacks but are also looking for a partner that can:

Provide resources to help extend automation and orchestration capabilities (e.g., developing/customizing incident response playbooks in security orchestration, automation, and response).
Ingest actionable threat intelligence and indicators of compromise through APIs.

Asia Pacific security leaders are demanding a broader set of services than ever before. MSS usage within Asia Pacific has seen a dramatic uptick in the last 10 years, with clients switching between insourced and outsourced models and hybrid options over the years. We saw an increase of 4 percentage points in MSSP services as a share of Asia Pacific CISOs' security budgets since 2019. We noticed this big increase throughout the COVID-19 pandemic, and it is here to stay for now. For MSS firms to maintain that spending, they need to show that they deserve to keep that spending by responding better to customer needs.
Forrester clients who want to read the research outlining the Asia Pacific MSSP market can find it here. I am also working on new evaluative research on Asia Pacific managed security services providers, aiming to publish in Q1 of 2023.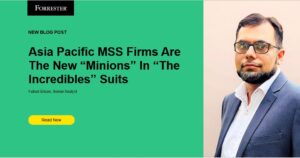 Categories