Bridging the Marketing Skills Gap – Revisited
A lack of required skills remains a significant challenge for most B2B marketing organizations
Bridging the marketing skills gap requires a marketing enablement discipline and consistent focus
Marketing enablement efforts must evolve into a discrete function/role in the organization
The more things change, the more they stay the same. Want proof? Take a look at the blog post I wrote back in 2013, "Bridging the Marketing Skills Gap." Though it's three and a half years later, not much has changed. Marketing leaders still cite a lack of required skills as one of their primary organizational challenges. In fact, data from SiriusDecisions' 2016 Global CMO Study revealed that supplementing and enhancing the skills of the marketing organization tops the list of priorities for marketing leaders in terms of planned organizational changes to optimize the performance of their teams.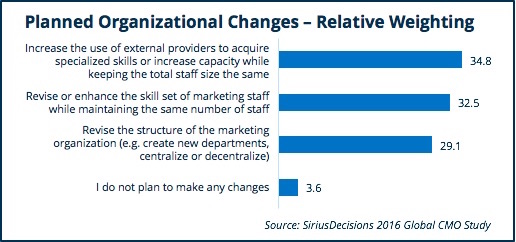 When it comes to marketing skills, the proverb holds true – turbulent changes do not affect reality on a deeper level other than to cement the status quo. The complexity of the B2B landscape and the explosion of marketing technologies will continue to drive turbulent changes, and the need for current and relevant B2B marketing skills will remain a necessity.
So, how do marketing leaders stay on top of what appears to be an urgent need? How do they ensure that they're constantly and consistently enabling their teams to build up, reinforce or hone their skills? The truth is that many of them aren't able to stay on top of it, and it's not for lack of wanting to. The need and the desire are clear, but the solution isn't a simple one. It's no surprise that the data from the 2016 CMO study revealed the use of external service providers to acquire specialized skills as the first response, and certainly a viable one. It's less complicated than finding and hiring internal resources with the required competencies. Not only are those resources scarce, but the hiring process isn't always easy. Revising or enhancing the skills of existing resources is where things get even more complicated, especially when bridging the marketing skills gap is left up to the CMO to address alone. A CMO's time is already constrained by other business demands.
Unfortunately, outside of relatively large organizations, very few organizations have resources or teams dedicated to formalized training programs for their employees, and even fewer have programs designed specifically for B2B marketers. If he or she is lucky, the CMO may have an HR partner willing to help with the creation of professional development plans. An even luckier CMO might also have an HR partner familiar with required B2B marketing competencies – but that's a rarity, and somewhat of an unrealistic expectation. Even in organizations that have that type of HR support, the creation of professional development plans is often an exercise that happens once a year as part of employee review cycles with no formal or consistent followup until the next review cycle. When it doesn't exist, employees are often left to tackle professional development themselves by leveraging what is usually a small amount of company-allocated training funds.
This type of approach (or lack thereof) just isn't going to bridge the marketing skills gap. Doing so requires a greater focus from across and within the marketing organization, along with dedicated ownership, accountability and governance. Why? Think about a typical B2B organization's focus on sales enablement. Is marketing enablement somehow less important? Of course not. The problem is that it just doesn't exist today, and the CMO can't do it alone. Just as the sales enablement discipline has evolved into a dedicated function ensuring that the sales team has the necessary skills and training, tools, processes, and programs, so too must marketing enablement. This new function will finally allow the CMO to make sure the B2B marketing team is at the top of its game every day. After all, change is the only constant.
Interested in learning more about the focus, structure and benefits of a marketing enablement function? Join us at SiriusDecisions 2017 Summit in Las Vegas to learn more about "Marketing Enablement: The Most Critical Function You Don't Have." In the meantime, respond to the poll below:
Categories