Does Unicorn-Level Funding Signal That The New Era Of CMS Has Arrived?
Recently, the CMS market has been swimming in funding rounds and PE buyouts, with many, many zeros behind each announcement. Below is a recap of some of the most recent events, working backward since the beginning of 2018. So far, it's nothing out of the ordinary . . . but looking at this visually with a stacked bar chart using data from our friends at Venture Scanner, the size and focus of these investments really jumps off the screen.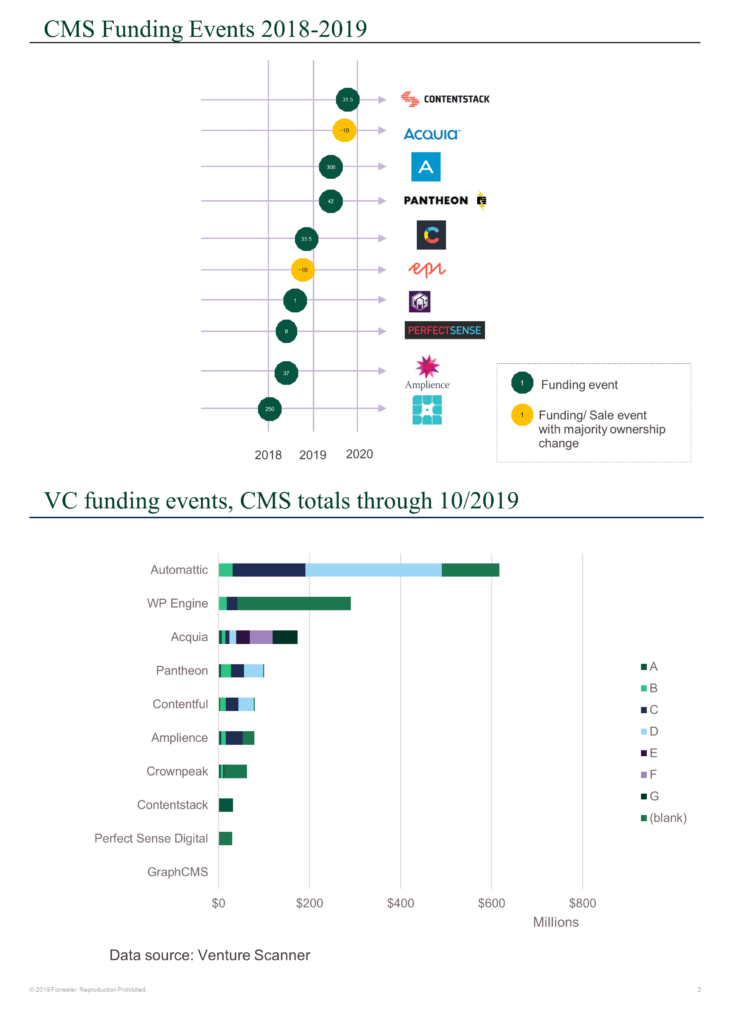 While funding trends are just one measure of a market's vitality, it's a good proxy for where the heat is and where players from outside the market (such as Salesforce) are placing their bets. While looking above, we can consider three trends that may signal the shape of the next phase of CMS:
The CMS market is mature yet still outpacing broader software spending. As of a year ago, we projected this ~$4 billion market to keep growing at 8.7% CAGR. While this means it will outperform broader enterprise software spending (slowing to 4% annually in the next decade), there's no mistaking that CMS is a mature market. CMS adoption in the enterprise has been steady for years, and the appetite to replatform seems to have slowed, but still, this is a sector with some upside even as the era of "classic" web CMS is closing.
The opportunity for market consolidation is coming. SaaS economics predict a "winner take all" outcome. While that theory is not without flaws, as we knock on the door of true-enterprise SaaS CMS, with all the benefits of multitenancy (horizontal scalability, zero upgrade pain, faster access to new features, etc.), the concentration of recent investments does support this thesis. Even so, the presence of a few new early rounds also highlights that even among the sequoias there are seeds still being planted with the hope of growing the next Automattic — or the next company it might acquire.
"Open" strategies are being rewarded. While Amplience and Perfect Sense focus on deep vertical relevance (eCommerce and news media), the primary correlation across these investments is openness. Open source communities Drupal and WordPress embrace this notion of open, community-led development at a DNA level, which maps to Acquia, Automattic, Pantheon, and WP Engine. Similar in spirit if not business model, Contentful, Contentstack, and GraphCMS can be said to be broadly horizontal and open with well documented APIs and code samples, making them more ecosystem-friendly.
So are we at the end of CMS as we know it? Our call late last year around the rise of Agile CMS indicates yes. But does that indicate the end of the road for certain vendors in this sector? Recent funding activity gives another clue as to how the smart money is picking the strongest candidates to survive and thrive in 2020 and beyond.
Want to learn more about our take on the future of CMS and how we see the prospects for various vendors (and especially the role of content in the broader digital experience stack)? Feel free to set up an inquiry with me (for clients!).
Categories