EMEA Summit 2015 – Program of the Year Winner: Symantec
Although becoming agile has emerged as a common desire at many B2B organizations, for the majority it remains a wishful state
When building an approach to becoming agile, Symantec first needed to ask, "how often do we need to be agile?"
This led to the genesis of a framework that allows the organization determine the potential impact of any market-triggered event
Have you ever been slow to react when your competition made a major new product introduction? Or, perhaps there was an acquisition announced in your marketplace – and yet it took you weeks to agree on what you should do and then mobilize resources and execute?
Although becoming agile has emerged as a common desire at many B2B organizations, for the majority, it remains a wishful state. However, the EMEA marketing team at Symantec has implemented a simple yet very effective process that allowed them to identify (and even anticipate), to prioritize unpredicted market-driven events and execute an integrated response within less than 24 hours.
When building an approach to becoming agile, Symantec first needed to ask, "how often do we need to be agile?" The answer to that question led to the genesis of an actionable framework that allows the organization to score and determine the potential impact of any market-triggered event. That's what Symantec calls the Marketing Agile Index (AMI). The AMI (see graph) includes the following four criteria:
Brand impact: What's the potential impact of the market-triggered event on Symantec's brand?
Technical capability: Does the organization have the necessary technical expertise to respond to this trigger?
Differentiation: What's the opportunity to differentiate Symantec in the market?
Pipeline potential or risk.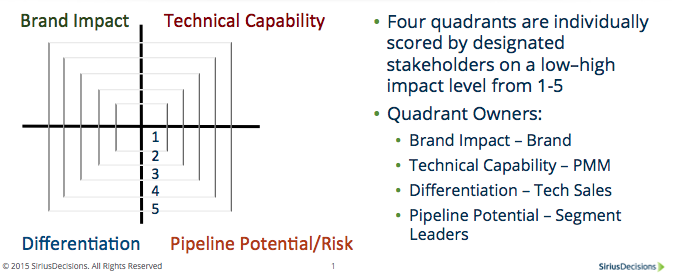 For each criterion/quadrant, Symantec has appointed a quadrant lead with the right expertise. The brand impact quadrant lead is from Symantec's brand team, while the technical capability quadrant lead comes from Symantec's product marketing team.
The differentiation quadrant owner is from the technical sales team, and segment leaders are responsible for determining the score for the pipeline opportunity/risk quadrant. (Symantec has two segment leads – one for the enterprise and one for the commercial segment.)
Once notified of an event, quadrant leads are responsible for providing their individual score for their respective quadrant, evaluating the impact of the market triggered event on a scale from 1 (low) to 5 (high).
So, how does the overall process work at Symantec? Here is a "chain of actions" that take place once watchers (e.g. existing market or customer-facing Symantec employees with daily contact with markets, buyers and customers) raise a flag:
The flag corresponding to a market-triggered event is assigned to a relevant market segment, and the segment lead is notified.
The segment lead makes a "go/no-go" decision to determine if Symantec will run a full AMI process for the alert.
If the decision is to go ahead, the segment lead notifies the quadrant leads and asks them to determine their individual score for their assigned quadrant and be ready to discuss within 24 hours.
The quadrant leads schedules the AMI call/meeting to bring together the quadrant leads and the VP of marketing in EMEA. As mentioned, that meeting takes place within 24 hours.
At the AMI meeting, individual scores and the reasoning behind are discussed, and the group determines a final (total) AMI score.
Based on the total AMI score, a set of predetermined actions and investment is agreed upon so that the group wastes no time defining the desired integrated response and instead, Symantec can focus on execution.
The segment leads has the responsibility to execute Symantec's pre-agreed response to the market place.
What the above shows us is a very clear path of actions – all of which are done in less than 24 hours!
Symantec has been following this process for six quarters. The team has scored nine market-triggered events and ultimately decided to respond to six of them.
Symantec's best practice to agility clearly shows that agility does not mean anarchy or chaos. Instead, agility was born via a well-identified process with clear roles and responsibilities amongst parties involved. Furthermore Symantec's approach brought down functional silos across sales, product and marketing – creating a unified and enterprise-wide approach to agile marketing and ensuring that speed is married with the right level of response.
Categories