Experience Design Providers' Costs And Timelines Vary Widely
When we surveyed XD providers recently, they told us that, because of complexity, system integrations required, and many other factors, project costs and timing are all over the map. Some told us they don't think about it in terms of individual projects at all — instead helping more with full-scale experience transformations that make individual projects a bad measuring stick.
Still, we think it's useful to note a rough benchmark for the kinds of projects we hear about most often. We've represented the uncertainty in the figure using error bars to show the highest and the lowest responses (see the graphs below). The benchmarks we found:
Websites, apps, and physical space projects: $500,000 and up.
AR, chatbots, and physical products: $250,000 and up.
Websites, apps, and physical space projects take 5–6 months, while augmented reality, virtual reality, chatbots, and physical products average four months.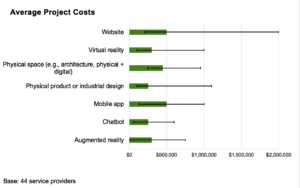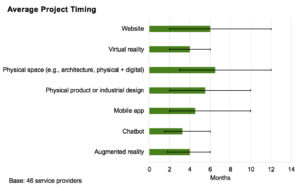 What It Means
Projects involving more "nascent" or exploratory technologies like chatbots or virtual reality are experimental and take less time — while projects like apps, websites, and physical spaces are business-critical and take more time. Costs are primarily driven by time.
Recommendations
This data is just a starting point for thinking about costs and timing. Other recommendations from our research:
Budget for ongoing maintenance costs from your provider and your internal design team.
Create criteria for evaluating the success of pilot projects — no matter how quickly you do it, just piloting a chatbot or Alexa skill doesn't matter if you don't learn anything tangible.
For physical products, ensure that you and the provider are accounting for design of the services around the object itself — like customer support and ongoing updates.
More Resources
For more insights from our research about XD providers, see:
These posts and the research reports they link to are based on Forrester's:
Experience design (XD) provider survey of 51 agencies and consultancies.
Findings from our frequent interviews of XD providers and their client companies.
If your company needs guidance about XD providers and your selection process — or if you're an XD provider and would like to know more about our research into this landscape — Forrester is available to help through customized advisory services.
Categories