First Steps to Building An Account-Based Marketing Plan (And Talking To Sales About It)
This is the third in a series of blog posts from two points of view: SiriusDecisions' Megan Heuer, and SAP's Jeff Winter
This final part in the series focuses on how to build an ABM plan
A successful ABM program that can measure results and justify investments needs support from sales and marketing
Editor's note: This is the third in a series of blog posts that tell the story of successful account-based marketing (ABM) from two points of view: SiriusDecisions analyst (Megan Heuer, Service Director, Account-Based Marketing) and marketing leader (Jeff Winter, Vice President of Marketing, SAP) winner of SiriusDecisions' 2015 ABM Program of the Year Award). Megan and Jeff will share what they've learned to help you deliver ABM results faster and avoid some common mistakes.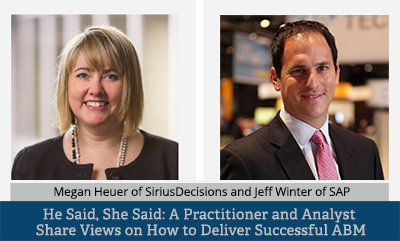 In their first post, Jeff and Megan took on the important first step to ABM success: selling it internally. The second post covered account selection. This post will discuss how to build the ABM plan.
Jeff Winter:
After selecting an account to be targeted through ABM and having the first general dialogue with the customer, the marketer should meet with the full account team (assuming there is one for major accounts) and discuss the current status of the relationship (e.g. the products/solutions the company is currently using, the current pipeline) and the sales team's mid-term and long-term goals and objectives. Next, the marketer puts on his or her "research and analysis hat" to learn about the company and its industry from several sources: publicly available resources (e.g. company Web site, social communities, executives' social media accounts, 10K forms, trade journals) and internal resources. Discern how often and how the company has engaged (e.g. does it prefer in-person events, is it active in your social communities, has tele worked?).
Megan Heuer:
Tread lightly when you're first working with sales to build an ABM plan. Remember the "give to get" philosophy. Find out from sales what else they'd like to know about an account. Maybe they've been focused on existing business and have known buying centers with active opportunities, but they haven't had time to prospect into new buying centers. Maybe they've been trying to get in the door with a new executive or team and could use some additional insights to make that effort more productive. At some point, it will be necessary to ask sales to share their account plans and goals (hopefully they have these), but don't make that request your first interaction. Instead, offer to help and see what you learn from what sales reps say they need.
After you complete your research, present your findings and recommendations to the sales team. Discuss how marketing will support goals of the account team. Your research should uncover some new insights, especially in unpenetrated buying centers. The foundation of this meeting should be the creation of a handful of specific marketing objectives that might include the following:
Educate influencers within the account on best practices for their currently installed products
Develop relationships with senior executives across the supply chain group
Generate 10 appointments in the procurement line of business
Create a sales accepted opportunity for your latest marketing product
After sales is bought into your strategic objectives (and understands what you won't be doing as a result of the investments you will be making), schedule a followup meeting for presenting the specific tactics to be used. Examples of tactics (all customized for the specific customer, of course) include a quarterly newsletter, monthly webcast series, a physical event, or relationship building through dinners or sporting activities.
Then, meet with the customer to present your ideas. Remember, you have already educated them on what ABM is, won their general buy-in, and agreed to a followup meeting. Now it is time to get into the details and build your collective plan.
Megan Heuer:
Jeff raises a key point here: Sales has to agree to every step you are suggesting, starting with the goals marketing can support. If you're both in agreement on what needs to be accomplished, not only will it be easier to select tactics, but it will also be easier to show exactly what each tactic did to help with the goal. This creates the structure that an ABM program needs to measure results and justify investment. All actions are connected to goals that sales and marketing have agreed to support. Focusing on linking actions to goals also helps marketers evaluate the inevitable ad hoc requests that will come in from sales or others in marketing to deliver additional tactics. Each requested action should be evaluated in light of whether it will help advance the agreed-upon goals. If it's not clear how an action helps, it's reasonable to question whether that action is a smart use of time and resources.
Megan Heuer, along with other SiriusDecisions ABM analysts recently hosted a series of Webcasts with deep dive discussions on account-based marketing and customer marketing hot topics. Watch OnDemand: SiriusDecisions Best Practices Webcast Series for Account-Based and Customer Marketers

About the Co-Author


Jeff Winter is Vice President at SAP, Field Marketing and Channel Marketing in North America. Covering the entire SAP portfolio, Jeff's team drives demand generation, acceleration, and account-based marketing programs. The team coordinates and executes an array of marketing tactics from content-driven events to life-style experiences to conducting rigorous analysis of pipeline and opportunities. Read more
Categories