For Super Bowl LV Advertisers, It Pays To Be Brave
Sitting out this year's Super Bowl may be the safe call for advertisers. Those brave enough to bring America levity in its moment of darkness, however, will reap the rewards.
This year's Super Bowl will be unlike any other. Stadium attendance in Tampa is limited to 22,000, a fraction of the record-breaking 100,000 fans in past years. Economic uncertainty, new COVID-19 variants surging across the globe, and political animus run amuck in the US are creating a charged atmosphere that many experts believe brands should avoid. Certainly, many advertisers have opted not to spend the reported $5.5 to $5.6 million per 30-second commercial this year. Coca-Cola, Budweiser, Hyundai, and Walmart are among the advertisers sitting this one out. Yet there is a very good reason why ViacomCBS sold out all its Super Bowl ad inventory. The brands sitting out this year are paying a different price for their absence. For the first time in nearly 30 years, the advantage of advertising in the Super Bowl outweighs the cost.
A Significantly Lower Super Bowl Ad Tax
The price per 30-second spot during the big game is at 0% growth in 2021: ViacomCBS is asking the same rate as Fox in 2020. While the price per ad generally increases each year, the last five years have seen more modest growth, between -2% and +6%. Furthermore, the rate of prime-time broadcast is growing significantly faster. Consequently, the ad cost premium of the Super Bowl is decreasing in velocity. The last three years show the Super Bowl premium reduce from 69% to 40% of that of prime time, the lowest in over a decade.

For the first time since 2010, the projected year-over-year growth of the Super Bowl television audience will be greater than the year-over-year growth of ad costs. It's no coincidence that both coincide during economic downturns — the Great Recession of 2009 and today's pandemic recession. This bolsters the argument of the value of reaching a mass audience. Super Bowl LV advertisers will reach the American plurality at modest rates relative to the projected audience.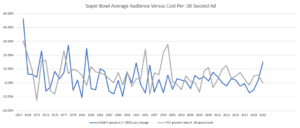 A Record-Shattering Audience
We project this year's television audience to top 115,000,000 viewers. Should this come to pass, it would top 2015's record of 114,442,000 viewers and represent a 15% year-over-year increase in audience size. The Super Bowl audience has not grown at this rate since 1993. Given the limited number of mass-audience events broadcasted, combined with the uncertainty of future live sports events, Super Bowl LV advertisers are likely capitalizing on one of the remaining mass advertising opportunities in 2021.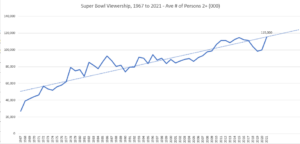 Momentary Escapism Grows Out Of Pandemic Fatigue
What's driving such audience growth? The very environment of uncertainty created by the pandemic, election, and struggling economy have left consumers fewer options for entertainment and starving for a short reprieve from their insecurity, pain, and worry. Advertisers brave enough to give the pandemic-fatigued population a moment of national levity and further moments of virtual watercooler connections will reap the reward of positive brand impressions.
Some commercials strike a more serious tone, including Toyota's inspiring story of Paralympian Jessica Long, glucose monitor Dexcom's spot with Nick Jonas, or Chipotle's ode to young farmers. These are strong conceptual ads that communicate compelling brand propositions. Their tone misses the levity opportunity, however. Indeed, the most powerful brand communication strikes an emotional chord with consumers. The best ads take us to a place we long to go. They offer us aspirational value. This year, this time, that value is entertainment.
Which advertisers are striking the right tone?
Amazon, "Alexa's Body"
A female exec daydreams Alexa in the form of Michael B. Jordan in a spot created by Lucky Generals.
Cheetos, "It Wasn't Me"
Shaggy helps Mila Kunis get away with stealing husband Ashton Kutcher's Cheetos in a spot by Goodby Silverstein & Partners.
Doritos, "#FlatMatthew"
Matthew McConaughey is feeling a little thin in this spot for Doritos 3D by Goodby Silverstein & Partners.
General Motors, "No Way, Norway"
Will Ferrell is put off by Norway's progress with electric vehicles. The spot by McCann features GM's electric-vehicle lineup.
Jimmy John's, "Meet The King"
The sandwich-makers' quality ingredients anger the mob boss of cold cuts, played by Brad Garrett and created by Anomaly.
Michelob ULTRA Organic Seltzer, "All-Star Cast"
This humorous spot, created by FCB, stars Don Cheadle and a cast of celebrity look- and sound-alikes.
Uber Eats, "Tonight I'll Be Eating"
Mike Myers, Dana Carvey, and Cardi B "party on" and promote eating local in a Wayne's World reprise from Special Group.
Categories