Got Chemistry? How to Know If an Agency Is "The One" (Part Four)
This is the fourth installment in the series, focused this time on how to look at chemistry between.companies
It is important to know which questions to ask when evaluating chemistry in the agency search process
Evaluating chemistry is an undervalued and often overlooked part of the agency selection process
My most recent post on agency chemistry outlined ways to evaluate the chemistry between your team and the agency. In this post, I'll examine how to look at chemistry between companies.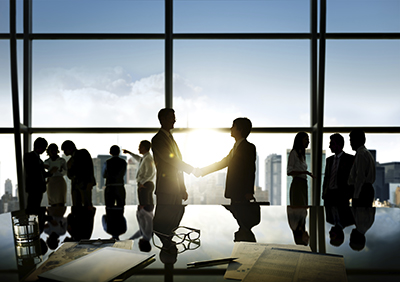 While personal chemistry and team chemistry might be intuitive, evaluating how an agency would integrate with your company is not at the top of many people's lists. We all know that onboarding an agency is time-intensive and the speed to value is precious, so you want an agency that can be with you for the long haul. By looking at the chemistry between companies, you'll be taking a step in the right direction. Here are some questions to ask:
Would the team fit in at a company function? I'm not just asking if they would wear ugly sweaters to your "ugly sweater" holiday party, but whether they would thrive in a situation where they were immersed with your colleagues for a period of time. One example of this immersion is Agency Days, when marketing organizations bring in all their agencies for a day of learning and brainstorming. We've heard about agencies that isolate themselves, eat lunch in a clique and fail to offer ideas and encouragement in the group setting. This isn't what you want to see in your agency partner.
Would you feel comfortable having one of their top executives meeting with your CEO? This scenario may never come up in the course of your engagement with an agency, but it is an important one to consider. Your level of confidence in the way an agency executive would handle this interaction is the ultimate barometer to determine if your agency is cut from the same cloth as those within your company. Some of the best agency/client partnerships I've been a part of include quarterly meetings between the top executives from both sides – not to talk about the engagement or results, but to discuss business issues.
Could you see the agency meeting with another one of your agency partners without you? Thinking about the agencies that you currently have in place and how they would interact with a potential new agency can go a long way. We've had clients see value when their agencies collaborate on solutions and then bring joint approaches to the table. Finding new agencies that can partner well with your existing agencies is a terrific way to amplify programming.
We've covered a lot of ground as it relates to evaluating chemistry in the agency search process. To summarize this series, here's a quick review of the types of chemistry and questions to ask:
Personal chemistry is the chemistry between you (as your organization's main contact with the agency) and the agency's day-to-day contact. Ask yourself:
Would you hire this person?
Would you take career advice from them?
Would you share a cubicle/office with them?
Team chemistry is the chemistry between the agency team and yours. Ask yourself:
Would you be comfortable having the agency team in brainstorm sessions with your team?
Would you have the team present results to your boss?
Would you send your team members to the agency for training?
Company chemistry is the chemistry between the agency and your company. Ask yourself:
Would the agency team fit in at a company function?
Would you feel comfortable with one of the agency's top executives meeting with your CEO?
Determining chemistry is by no means a science. But if you answered "yes" to six or more of these questions, you can feel confident that the agency would be the right fit. If you answered "yes" to three to five, I'd proceed with caution. If you answered "yes" to fewer than three questions, then the agency isn't going on that second date with you.
With these questions in hand, you can better evaluate a very important – yet often overlooked – part of the agency selection process. While most companies are looking for an outside vendor to help push them and give them a different perspective, you also want to make sure the work they provide will fit within the framework of the culture of your company.
Are there any unconventional questions you've used as part of an agency selection process that you've found useful? If so, share them below!
Categories