Recruiting the Right Partners: Four Reasons You Need Channel Development Managers
With changing buyer needs and growing competition, keeping your channel partner funnel full is just as important as keeping the sales funnel full

Avoid distracting channel account managers from nurturing and developing current partners by having them recruit new partners

Effective recruitment and activation of new partners demands focus and a different persona than that of a channel account manager
Are you having problems recruiting the right partners to drive channel sales success or getting new channel partners productive in a timely manner…or at all? In previous blog posts, I have talked about how to avoid sub-par recruitment and activation results. However, who owns these tasks is also a critical success factor.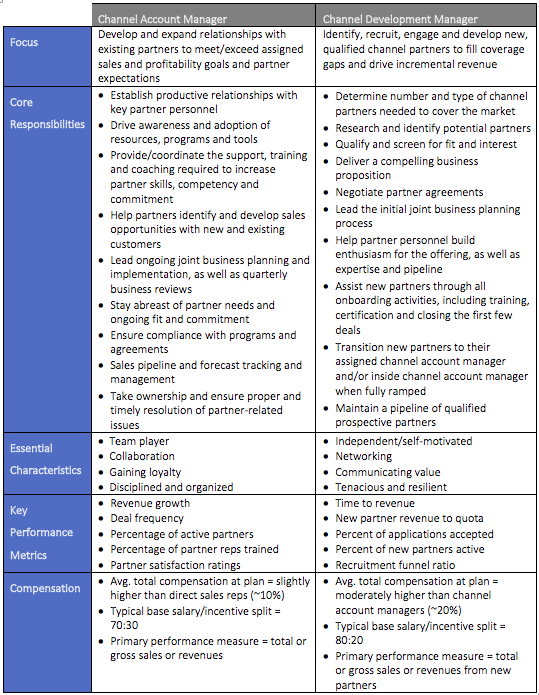 If you are solely relying on your channel account managers, then you're putting your channel sales results at risk. Appoint senior channel sales professionals exclusively to identify, qualify, screen, recruit, engage and develop new channel partners. These positions are most frequently called channel development managers. Other titles include channel recruitment managers, recruiters and partner development managers. No matter what you call them, channel development managers deliver the following key benefits:
Focus. Channel sales success is highly dependent on motivating existing partners to sell more. Considering growing partner churn caused by changing buyer needs, shifting partner business models and growing competition, it is just as important to maintain a queue of prospective partners. Yet with pressure to hit a quarterly sales quota, most channel account managers spend most of their time with their top revenue-producing partners, leaving them little time to recruit new partners. They also steer away from recruitment, because it is easier and less time-consuming to expand sales through existing partners than it is to find and close new partners and get them productive.
Fit. To maintain accountability for recruiting the right channel partners and to ensure they become productive as quickly as possible, channel development managers should be responsible not only for signing new partners, but also for properly onboarding them. As result, there are similarities in the roles and required skills of a channel account manager and a channel development manager. For example, both need to be well versed in partner business models and have demonstrated success in developing productive relationships with partners. However, as illustrated on the chart, there are enough differences in the required activities and behaviors to warrant separating them into two distinct roles to drive success. The most important difference is that not all channel account managers are capable of hunting for new partners; they are better suited to farming existing partners.
Effectiveness. If you combine the responsibilities of these two roles into one generalist channel account manager role, the list of responsibilities is long and complex, and it is impossible for an individual to succeed at everything. Allowing channel account managers to specialize in either recruiting and activating new partners or expanding the sales of existing partners enables them to develop a higher level of skill and experience. This increases overall efficiency and effectiveness and creates higher job satisfaction.
Accountability. The key means of holding channel managers accountable for results include setting specific expectations, measuring results, providing feedback and evaluating effectiveness. Considering the complexity of a generalist channel manager role, it is easier to accomplish accountability when recruitment and activation is a person's sole responsibility.
So what does all this mean? The best situation is to have two different people handling the two different responsibilities – recruiting and activating new partners and expanding the sales of existing partners. However, if a company does not have the luxury of having two different people handle these separate responsibilities, then the pay plan and performance metrics must communicate that recruitment is a priority of the business (e.g. paying on new partner revenue contribution, as well as total revenue).
Categories