Say Cheese: Snap's Spectacles 3 Enhance Snapchats With Augmented Reality
Mixed reality experiences run the gamut from augmented reality (AR) mobile apps to try-on lipstick and shoes to completely immersive virtual reality headsets used for military and surgical training.
Spectacles 3, the latest camera-equipped sunglasses from Snap, marks a large improvement from Spectacles 2 (launched in April 2018). With two cameras instead of one, Spectacles 3 is the company's first sunglasses capable of recording imagery in 3D. Users can don the sunglasses, capture photos and videos, sync to their phone, and apply a variety of 3D effects, filters, and lenses to their content.
At $380, Spectacles 3 doubles as video recorders and fashionable sunglasses — they're available in two colors and can be customized with prescription lenses, too.
Consumers experience augmented reality in the smartphone app — not the glasses. Once the videos are downloaded to the app, the user can create his or her own AR content, which is pretty cool.
In 2016, Snap launched its first-generation Spectacles: camera-equipped sunglasses that synced with the Snapchat mobile app. The latest release from Snap, the third-generation Spectacles, came in November 2019. At $380, they're more than double the cost of the second generation, but the inclusion of 3D video capture makes them far more advanced. We recently had the opportunity to interview the team behind Snap Spectacles.
With two cameras mounted on either side of the sunglasses, Spectacles 3 captures the depth in the scene from the perspective of the wearer. Spectacles wearers record photos and videos hands-free and can transfer the recordings to their smartphone, where they can apply the 3D effects and lenses and create 3D experiences.
Some of the AR features made possible by Spectacles 3 in the mobile app include:
Occlusion. Users can place a 3D object that only becomes exposed when it is visible in the scene.
Camera tracking. Users can "pin" a 3D object or text in the video that stays locked in place.
Depth. Recording photos and videos with two cameras captures the depth of the scene
And they look cool, too. I scanned the Snapcode on the Spectacles website and used the custom Snap lens to virtually try on the Spectacles 2 and Spectacles 3.
Spectacles 2 Try-On Using The Snapchat App And Lens
Spectacles 3 Try-On Using The Snapchat App And Lens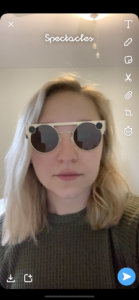 Spectacles 3 3D Effects
The AR effect is applied to the user's video after uploading to the Snapchat app.
Check out Jeffrey Hammond's and my research report, "Audio: The State Of Extended Reality (XR) In 2019." Expect updated research on AR in late April.
If your company is building consumer AR experiences and is interested in participating in our research, please contact me at jask@forrester.com.
(Researcher Erin Sellers coauthored this blog.)
Categories