The Many Hats Of Jean Douglas Over A Long And Storied Career
No Forrester employee has shouldered as many responsibilities as outgoing VP of Corporate Services Jean Douglas. Joining Forrester in February 1989 as one of just five employees, Jean implemented the company's first accounting system, wrote the first employee handbook, managed client conferences, and ensured that Forrester reports made it out to clients pre-internet. As the company grew, she oversaw the opening of offices on three continents and helped shepherd the company through periods of tremendous change.
The quintessential doer, Jean has inspired legions of Forresterites with her can-do spirit and work ethic. We had the opportunity to talk with Jean as her retirement approaches about her multifaceted career and lessons learned.
Q: What brought you to Forrester in 1989?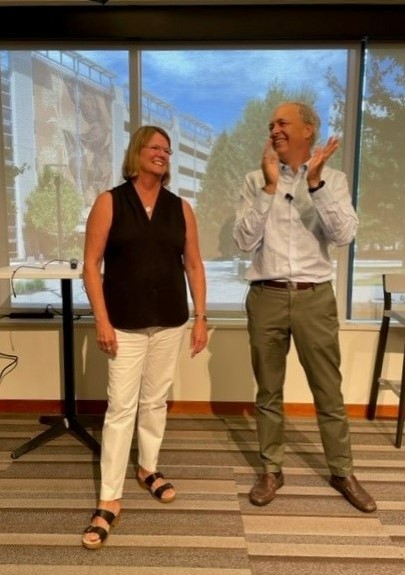 Jean Douglas with Forrester CEO George Colony
JD: I was looking for a job where I would continue to use my skills, which were essentially office management. When I first saw the Forrester job posting in the newspaper, I didn't apply because I thought they wanted Lotus Notes experience, and I had none. But I was also working with a headhunter who sent me on interviews with a number of companies, including Forrester. I liked the startup feel — I knew that I could bring value.
Q: Your original role was director of operations. What did that entail?
JD: The premise was to take on the running-of-the-business stuff like payroll, taxes, and paying the bills. I put in our first accounts payable system and managed the vendor when we put in our first network. I also wrote the company's first employee benefits handbook. And did the production work for our events.
Q: What was the office atmosphere like early on?
JD: Since there were only five of us, everyone jumped in to do what had to get done. We had just two research coverage areas at the time: professional systems and networking, which was just launching. When it was time to get a report out, we all reviewed it to make sure it was clean. Then I would get the reports printed. Back then, you had to print it out on one PC, then take the floppy disk over to the Mac to print the graphics on the same piece of paper. Then it went out to be made into film to produce a softbound copy.
In terms of the space, we all had our own office with desks that were made of hollow-core doors with two file cabinets underneath. At some point, we upgraded to these beautiful butcher block slabs that came from Vermont or Maine and had an antique look. But they were finished polyurethane, and that was upscale. [laughs]
Q: What are a couple of the milestones or events that stick out most to you?
JD: One is 9/11. The week before, [former President and Chief Operating Officer] Bill Bluestein died; we had just gotten through that awful, awful experience. I remember driving into work on 9/11 and listening to a book on tape. I had no idea what was going on. When I walked into the office, all the TVs were on, and in the gym, everyone was gathered and a mess. I had to step into business mode: "OK, we've got to call the travel agency; we need to find out where all of our employees are and ensure they're safe."
A very different memory, which happened earlier, was the company hitting $50 million [in revenue]. We had a big celebration, but in my mind, it wasn't about $50 million. It was that we needed a new office because we had grown to a certain number of people. We had to move again. As we grew, we started rolling out these new, structured departments that we hadn't had before. I found that fascinating. I went to the events department for a short period before coming back to Operations.
Q: How did you come to lead Corporate Services? Was it one of the new departments that emerged as the company grew?
JD: Corporate Services was strictly a name change from Operations. I was appointed VP of Corporate Services when we were planning the move to our current headquarters in 2008 or 2009. It was our first ground-up construction. It was driving significant cost expense, of course, and was a big responsibility. As my broker would say, "You changed the skyline." [laughs]
Q: What were some of the key highlights of opening offices on multiple continents?
JD: I've had the opportunity to travel to and see many places: Singapore, Sydney, Amsterdam, Frankfurt, London, Paris, and New Delhi. Now, much of the work of finding a location and space can be done online.
Q: What's kept you at Forrester for 34 years?
JD: It's really that no two days have been the same. Every single project, everything I've done, has been constant learning. I've also had the opportunity to build a department that supports the organization. I have great people who have been here for a long time, so hopefully that says something about the company, the work, and how they feel about the business — and maybe me.
No two days have been the same. Every single project, everything I've done, has been constant learning.
Q: Forrester has obviously gone through a lot of change over the years. Is there a throughline you've seen — something, perhaps in the culture, that's remained consistent?
JD: People here really care about what they're doing. They're very interested in what they're writing about and how they're connecting with clients. There's real passion in it. I struggle with the idea of "culture" as being something "out there" and that we should be looking for, rather than something that's already here. In our case, it's about hiring people who are passionate about what they do and about having an opportunity to dig into a topic and come up with great ideas.
Q: How has working at Forrester helped you grow, personally and professionally?
JD: My mom used to ask me how I know how to do what I do. I said it was simple: I surround myself with people who are smarter than I am, and I talk to them. I don't guess. I've learned how to ask the right questions and break down what people say. So it's not a specific thing that's helped me grow professionally — it's been the people.
Q: What will you miss most about working at Forrester?
JD: I've forged relationships with people that I certainly hope don't just end. I've had a unique opportunity in that I grew up with the company and have been very connected to the executive team. Even though my work didn't directly drive the business, [the executive team] didn't have to think about that work because it was being done. And that's part of our mantra as a team, right?
I'll also miss not having to get stuff done. Our former chief legal officer used to say, "You have a high GID quotient" — meaning, "get it done." I've learned so much over the years. It's been a heck of a ride.
Categories