The First Step in Account-Based Marketing Isn't What You Think
Selecting accounts for account-based marketing (ABM) isn't the first step for ABM, as many incorrectly think
Account-based marketing (ABM) organizations need to prepare for ABM first before selecting accounts to include
Preparing for account-based marketing (ABM) includes educating internal constituents, determining ABM type and scope, and organizational alignment
"The first thing you need to do in account-based marketing (ABM) is select the right accounts." I've heard and seen this proclamation numerous times when listening to webinars or reading blog posts. Categorically, though, that's not the first thing you should do when pursuing an ABM strategy.
Don't get me wrong – ABM is called "account-based" because you're selecting prioritized accounts on which to focus your marketing efforts, and prioritization is critically important. But there are other activities that must be completed before marketing and sales can align on the accounts to be included in such efforts. Because ABM requires a fundamental shift in the way marketing and sales go to market, first there must be pervasive internal preparation for how that adopted ABM approach will affect the organization. In other words, you need to inform and prepare the organization for ABM strategy and execution – before you select the accounts. If you don't educate and align the multiple constituents necessary to deliver elements of your ABM strategy, then your ABM efforts will fail.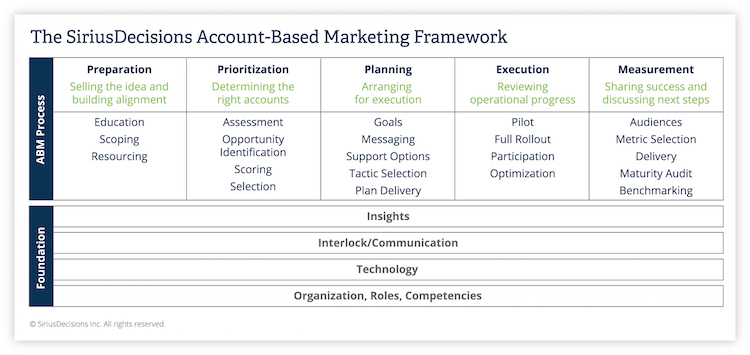 Preparation for ABM execution involves three activities:
Education. This ensures that marketing leaders, ABM leaders and those who support ABM efforts (e.g. sales) understand what ABM is, why it's being deployed and what their supporting roles are.
Scoping. This determines the ABM type (e.g. one-to-one, one-to-few, one-to-many) and breadth and duration of ABM efforts, and involves gaining agreement on that scope. Scoping also helps the organization set goals to track ABM success later in the process.
Resourcing. This involves identifying the people, program and system resources sufficient to support the planned scope of ABM.
With this preparation in place, you can now select your ABM accounts on the basis of your organization's knowledge, the defined scope, and the resources and interlock you have in place to deliver.
I'll be presenting two sessions on ABM in Nashville at SiriusDecisions' 2016 Summit in May. The first, "SiriusFoundations: Account-Based Marketing," is designed to help B2B organizations looking to adopt ABM by showcasing core ABM principles, frameworks, models and tools, including further exploration of the SiriusDecisions Account-Based Marketing Framework.
Categories