The Paisley Dress's Impact on Native Advertising
Review new Federal Trade Commission (FTC) rules on native advertising to make sure you are in compliance
Native ad units must be clearly labeled – on the page and in links promoting native ads
Make sure influencers who act as paid endorsers reveal their connection to your company
In December 2015, the Federal Trade Commission (FTC) issued a new enforcement policy that's required reading for any communications leader involved in native advertising or paid influencer programs (Native Advertising: A Guide for Businesses). The new guidelines largely reinforce what has long been the FTC's view – that advertising must be clearly identified as such, and failure to disclose the commercial nature of an article or a post misleads consumers. Similarly, the FTC's Endorsement Guides state that influencers who have been paid to say something favorable about a product must disclose that their statement is an advertisement.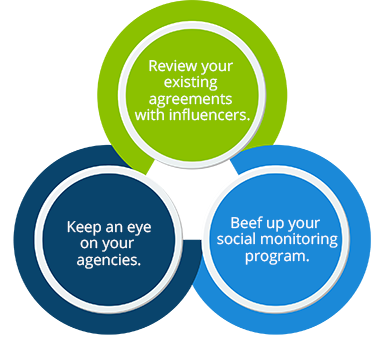 This March, Lord & Taylor found out the hard way that the FTC is serious about its rules. A year ago, the company had contracted with fashion magazine Nylon (through agencies) for a paid online article describing its Design Lab line of apparel, focusing specifically on one paisley asymmetrical dress. That Lord & Taylor had paid for the article – and even edited it – was not disclosed, and neither was the paid promotion Nylon later ran on Instagram. Lord & Taylor also gifted the dress to 50 fashion influencers and paid them to post pictures of themselves wearing it on their own Instagram accounts. Although the influencer posts contained Lord & Taylor's Instagram handle and the Design Lab hashtag, they did not state that they were paid posts.
The campaign was a huge marketing and sales success, reaching 11.4 million Instagram users and generating more than 300,000 brand engagements. The dress sold out. And then, the FTC came calling. The FTC has since announced that Lord & Taylor agreed to a settlement (without a finding of wrongdoing), but the company's marketing will be scrutinized by the FTC for many years to come.
So, the lesson here is to err on the side of transparency in native advertising. The unit's promotional nature should be disclosed prominently, and must also be present in banners or posts promoting the content. Review all of your native advertising programs, including "door openers" (links to ads that may appear to be editorial content). We also recommend the following additional steps:
Review your existing agreements with influencers. If an influencer fails to disclose that an article or a post is the product of a paid agreement with a company, the company is responsible. Make sure agreements clearly state the disclosure requirement, and review any articles or posts that have already been published to ensure compliance. Bring any doubts to your legal team.
Keep an eye on your agencies. One would hope that agencies using social media on behalf of clients understand the rules of the road. But the agencies won't be on the hook if a mistake is made – your company will be held responsible and your brand could be the victim, so sit down with agencies and review the guidelines.
Beef up your social monitoring program. Because companies are always accountable for what influencers do on social media, we recommend that you monitor influencer Web sites and social channels. Although many companies have social monitoring programs, they may not be on the lookout for this type of problem. This is one reason why someone from your influencer relations function should be involved in the setup of native ads and paid endorsements.
Native advertising has a growing presence in many integrated marketing plans, and while that's perfectly acceptable, it's not a replacement for editorial exposure earned through influencer relations. And as requirements for disclosure tighten, native ads may soon appear not much different from the "advertorials" of old. This is a good thing. Buyers should be informed about the source of information they're receiving. There are no shortcuts to editorial content – or at least no legal ones.

Categories