Forrester Launches CX Certification In Mandarin Chinese
This new offering will help companies in China build the skills they need to execute their customer experience strategy
BEIJING, May 27, 2020 – Forrester today announced an extension to its CX Certification training program, a new Mandarin Chinese version of its globally acclaimed CX Foundations course designed to help CX professionals align and grow their team's CX knowledge.  Forrester has already certified more than 2,000 CX professionals globally since CX Certification launched in August 2018.
A Brandon Hall Gold award winner, the program offers a unique blend of hands-on learning and self-paced lessons in a digital learning platform, taught by Forrester experts drawing on more than 20 years of CX thought leadership research and incorporating global and Chinese case studies. Providing professional recognition for the skills needed to initiate and orchestrate end-to-end CX projects, course participants who finish the program are better equipped to execute their CX strategy and drive meaningful change across the enterprise.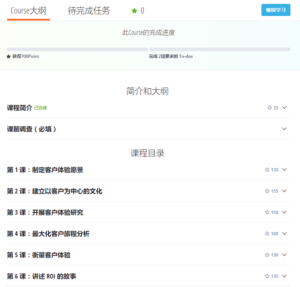 The Forrester CX Certification Mandarin Chinese Digital Learning Platform
"Chinese consumers have long been empowered by technology innovations, making China a hotbed for digital CX innovation," said Meng Liu, Forrester analyst and a member of the certification teaching panel. "To take it to the next level, brands must strive to better understand their customers, and work with corporate strategy and product teams to deliver greater value to their customers. Our CX certification program supports CX teams to develop and take with them the concrete skills, valuable tools, and repeatable processes that will help them differentiate on CX and beat the competition."
CX Foundations is an eight-week online course, which features six lessons that focus on topics such as journey mapping, CX measurement, and ROI modeling. Successful completion awards participants a signed certificate and badge to promote their certification.
Additional Resources
About Forrester
Forrester (NASDAQ: FORR) is one of the most influential research and advisory firms in the world. We work with business and technology leaders to drive customer-obsessed vision, strategy, and execution that accelerate growth. Forrester's unique insights are grounded in annual surveys of more than 690,000 consumers and business leaders worldwide, rigorous and objective methodologies, and the shared wisdom of our most innovative clients. Through proprietary research, data and analytics, custom consulting, exclusive peer groups, certifications, and events, we are revolutionizing how businesses grow in the age of the customer; learn more at forrester.com.