2018 Global Chief Sales Officer Study: Is Your Sales Team Selling the Way Buyers Want to Buy?
Buyers are in control of the buying process, so B2B organizations must make adjustments to reflect this shift in power
Chief sales officers (CSOs) need to rearchitect the way their sales team sells to reflect how buyers purchase
Sales teams that provide a compelling buying experience will win
The shift in the balance of power away from sellers to today's empowered and demanding B2B buyers has been well documented. However, little has been shared about what sales leaders must do to address these changes in buying behavior in order to keep up.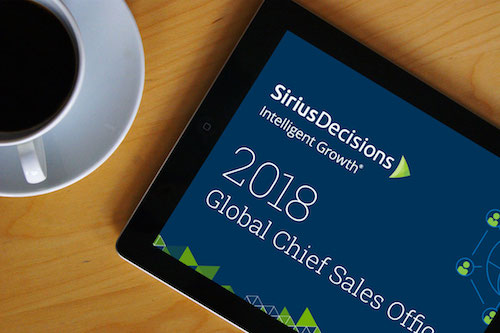 The SiriusDecisions 2018 Global Chief Sales Officer Study reveals that in response to this new reality, chief sales officers (CSOs) must redesign their entire go-to-market approach to engage B2B buyers in the way they want to purchase. This means anchoring everything the organization does around helping customers during their purchase journey – from identifying the right customers to engage, to providing insights beyond just product specifications during the process, and exceeding buyers' expectations once the contract has been signed. The bar has been raised.
Below are six key priorities for CSOs to turn the buying experience into a competitive advantage and hit their revenue goals:
Review total addressable market assumptions that may have already been completed by marketing and product. CSOs should also work with marketing and product leaders to establish a cross-functional working group with a mandate to define and agree on the prioritized target market and buyer personas. This ensures that marketing and product are working in concert with sales to pursue an agreed-upon ideal customer.
Request a coverage plan from sales operations that balances sales opportunities from existing and new accounts with sales capacity and workload. The plan should clarify roles and responsibilities for pre- and post-sales customer support, including retention and growth.
Develop and execute a strategy for educating their teams on the unique problems of the roles they're selling to so sales reps can establish credibility with buyers and be viewed as a valuable resource throughout the decisionmaking process.
Ensure that the demand sourcing strategy outlines the amount of demand required from four sources of demand (i.e. sales, marketing, tele, channels) to achieve 2018 revenue objectives and enables broad-based rep quota attainment.
Redesign the sales process around the buyer's journey so the sales team helps guide buyers through their decisionmaking process. This means focusing sales reps on buyer-driven outcomes that not only improve the buyer's purchase experience and accelerate sales cycles, but also help CSOs improve forecast accuracy.
Improve the buyer's purchase experience by understanding and removing friction points that make it difficult for buyers to efficiently conduct their evaluation and make a decision. This means looking at the internal complexity that slows sellers down from being responsive to buyers
The shift in buying behavior represents an exciting opportunity for CSOs who can quickly redesign their go-to-market approach to provide buyers with a best-in-class buying experience.
Categories