Account Selection, Early Sales and Customer Engagement: The Unsung Heroes of Account-Based Marketing Success
This is the second in a series of blog posts from two points of view: SiriusDecisions' Megan Heuer, and SAP's Jeff Winter
This second part of the series focuses on how to select accounts in an ABM plan
Successful account selection requires support from the account manager, especially in the pilot phase
Editor's note: This is the second in a series of blog posts that tell the story of successful account-based marketing (ABM) from two points of view: SiriusDecisions analyst (Megan Heuer, Service Director, Account-Based Marketing) and marketing leader (Jeff Winter, Vice President of Marketing, SAP, winner of SiriusDecisions' 2015 ABM Program of the Year Award). Megan and Jeff will share what they've learned to help you deliver ABM results faster and avoid some common mistakes.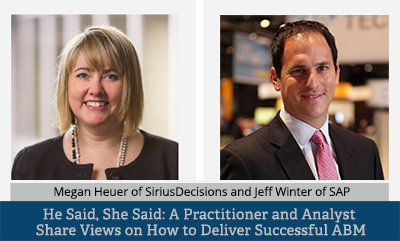 In their first post, Jeff and Megan took on the important first step to ABM success: selling it internally. Hopefully you've followed their advice and gotten internal buy-in from your marketing leadership to pursue ABM. Now we need take the next – and one of the most critical – tasks: account selection.
How do you choose which accounts to include in an ABM pilot?
Jeff Winter: For the pilot phase of ABM, I would recommend the following simple criteria for selecting your handful of accounts, near- to mid-term revenue opportunity, the existence of cross-sell/adjacent space opportunity, an extremely strong relationship between the marketer and the sales lead for the account, and interest and engagement from the customer. Once the ABM program scales, we advise using more formal scorecards to allow for an objective and consistent approach across candidates.
Megan Heuer: Our scoring model has three parts: the Opportunity Index, the Achievability Index and the Cooperation Index. The information gathered to fill in each provides a very complete picture of how accounts compare in three critical ways. Most of our clients use this three-part model as a starting point, then adapt it to fit the specifics of their business and the available data. The Opportunity Index looks at potential growth in an account. The Achievability Index looks at how hard or easy it may be to win that growth. The Cooperation Index evaluates whether a customer or prospect will be willing to collaborate with the seller, and if sales and marketing can work together on that account. As Jeff suggests, you may want to focus on a few key inputs at first, and then build up to a more nuanced evaluation. The most critical inputs to focus on – from what I've seen – are the type, size and timing of the opportunity, and whether the account manager is willing to work with marketing. Especially for a pilot, make sure you're selecting accounts where marketing won't have to spend most of its time pleading with an account manager to collaborate. Just choose one who will from the start.
How do you begin the conversation with sales about working together on accounts?
JW: You need to educate sales on what ABM is, what it is not, the roles and responsibilities involved, and more. Approaching your best friend in sales with a "Would you like some ABM for your top two accounts?" question does not suffice and will lead to myriad troubles. It is important that you lay out expectations clearly and succinctly. Example requirements from sales I'd recommend: invite marketing to be a formal part of the account team, work with the customer to identify a day-to-day contact with whom the ABM practitioner will engage, and identify a senior sponsor at the customer to ensure there is a direct path for strategic planning and escalations.
MH: Jeff is right on with what he describes. All I'll add is that you want to make sure you're coming to sales with a "give to get" mentality. Don't rush into asking the sales rep to share his or her account plan before you show what he or she can benefit from by working with you. Share examples of internal ABM success stories if you have them, or examples of what it looks like at other companies to say "this is what I want to build for you, but I'll need a little help to get there."
Should you tell customers they're part of an ABM program?
JW: After you have met with sales and established a clear understanding of roles and responsibilities, it is time to engage the customer. The primary purpose of this first meeting is to demonstrate that your company is investing in them – that you want to move beyond a transactional relationship and toward a more of a strategic partnership. To do this, you are recommending a programmatic approach to communications and engagement – i.e., ABM! Again, whether you use "ABM" or another name, or roll your ABM program under a broader strategic initiative, you should highlight the types of activities the two organizations can engage in and the roles of all parties (generally speaking).
Assuming they are interested, and after addressing any concerns they might have, the next step would be to recommend a planning meeting, where you will present ideas around specific initiatives and programs. Now comes the real work: building your ABM plan.
MH: This is area that has some controversy among our clients. Some have great success letting customers know they're part of a special program. Others choose not to tell customers because they want the flexibility to change out accounts as needed, and they feel that if they tell customers they're no longer getting special treatment, it hurts the relationship. Others tell clients in a more generic way that they have some special options available because they're part of a strategic account program. But unless the value proposition of the program and its resources are made clear and distinct from other messaging, this generic approach tends to miss the mark. At risk of sounding like an analyst and saying "it depends," my experience is that for the question of whether or not to have full transparency around ABM inclusion, it really does.

About the Co-Author


Jeff Winter is Vice President at SAP, Field Marketing and Channel Marketing in North America. Covering the entire SAP portfolio, Jeff's team drives demand generation, acceleration, and account-based marketing programs. The team coordinates and executes an array of marketing tactics from content-driven events to life-style experiences to conducting rigorous analysis of pipeline and opportunities. Read more
Categories