Summit 2014 Highlights: Advanced Demand Creation
At Summit 2014 in Orlando this afternoon, SiriusDecisions' demand creation experts described several advanced techniques that B2B companies can use to improve the results generated by their demand programs.
What factors make the difference between a highly productive demand waterfall and others that produce less demand and revenue than they should?
At Summit 2014 in Orlando Thursday afternoon, SiriusDecisions' demand creation experts described several advanced techniques that B2B companies can use to improve the results generated by their demand programs. Each of the four topics covered in these sessions explored a method for optimizing the results generated by the SiriusDecisions Demand Waterfall.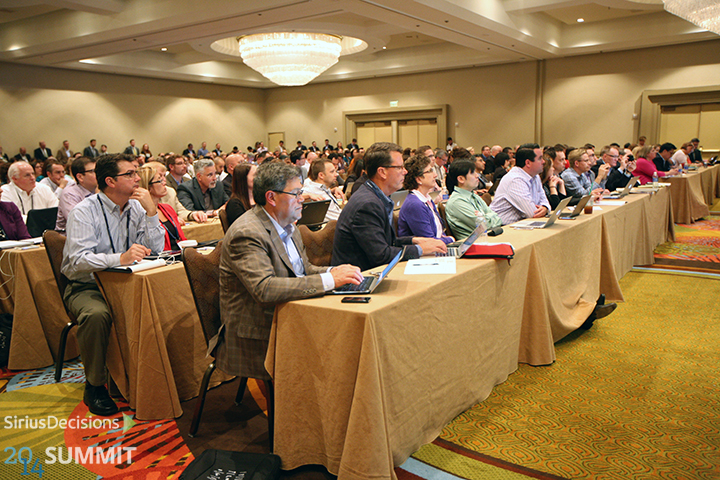 Demand Modeling
First, Jay Famico and Jen Horton explained how measuring lead velocity during each stage of the Demand Waterfall can be added to the inputs of lead volume and conversion rates to model how much demand will be created during a particular timeframe.
"With demand modeling, organizations can get near-real-time visibility into how much demand they will create during each month, quarter or year," said Jen. "They also can identify upcoming challenges and develop strategies for meeting those challenges, such as more budget for demand creation or sales activities."
Jay then demonstrated how to use a demand modeling tool to calculate capacity requirements for marketing and sales. "As a planner, I can use this tool to calculate exactly what I need in each time period, in terms of inquiries entering the top of the waterfall, as well as teleprospecting and sales resources, in order to hit demand targets," he explained.
Service-Level Agreements
Matt Papertsian discussed how service-level agreements (SLAs) have evolved in recent years to help B2B marketing and sales functions collaborate more effectively on improving demand waterfall results. Matt also described a structured five-step process that organizations can use to develop a basic SLA or migrate to a more advanced one.
"Getting married and staying married are two fundamentally different things," said Matt. "And just like in a marriage, keeping the relationship between sales and marketing a happy one depends on shared goals, values and commitment, as well as continuous communication. Strong SLAs are crucial for making this a reality."
In an instant poll, about half of the Summit audience reported that "Driving adoption" has been the main challenge facing their organization when rolling out SLAs, while another 38 percent said the main challenge is "Managing compliance."
In addition to traditional SLAs governing the downward flow of leads through the waterfall, Matt also focused on nurture SLAs, which govern the movement of rejected or disqualified leads backwards in the waterfall – from teleprospecting back to marketing, or from sales to either teleprospecting and marketing – so they can receive additional nurturing and requalification.
"SLAs have evolved from addressing a one-directional flow to a bidirectional flow in order to accommodate the more complex lead management processes that many organizations are now using," Matt explained.
Waterfall Diagnostics
Next, Terry Flaherty presented a new method for diagnosing the health of a demand waterfall in order to improve its performance. Just as a Myers-Briggs personality test can sort people into types, Terry explained, demand waterfalls can be sorted into types based on their characteristics.
"It's hard to improve human personalities," he noted. "But a demand waterfall usually can be improved once we identify which pattern it falls into. And by correctly diagnosing the waterfall, we are gathering insights into the revenue health of the business."
Terry explained how each demand waterfall can be associated with a characteristic patterns based on a holistic analysis of its conversion metrics, and a comparison of each of these metrics to selected benchmarks.
"It's not enough to focus on one metric that covers one portion of the waterfall," he noted. "You need to identify all of the break points in the waterfall, as the starting point for understanding the problem."
For each demand waterfall pattern diagnosed by this method, Terry explained how to evaluate symptoms, assess the underlying causes and implement improvements.
For example, if marketing is producing a large number of leads that are accepted but never qualified by sales, the pattern of "classic misalignment" between the two functions can be diagnosed, where the lack of a shared lead definition results in a waterfall that suffers from lower-stage conversion issues and low overall efficiency.
Global Teleprospecting Models
In the final session of this Summit track, Jason Hekl and Julian Archer offered a decision support tool for global organizations seeking to understand their options for structuring their teleprospecting organizations and managing the contribution of teleprospecting to the demand waterfall.
"Teleprospecting groups around the world are often developed in an ad hoc fashion," said Jason. "But the lack of a consistent structure or blueprint for global teleprospecting makes it difficult for organizations to understand and improve the impact of teleprospecting on the demand waterfall."
To select the best global teleprospecting structure for an organization, Jason and Julian prescribed a four-step analysis that begins with analyzing teleprospecting's current and desired role in the demand waterfall.
"After accepting scored leads from marketing," Jason explained, "teleprospecting's role is to further qualify those leads until they are ready to be sent to sales. Teleprospecting may also source its own leads independently. It's also important to understand the contribution of teleprospecting's sourced and qualified leads to pipeline and revenue."
Julian outlined three global teleprospecting models and described examples of how global organizations have selected the best model for them, based on current capabilities and resources, as well as market conditions and the organization's go-to-market strategy. The three model options are:
Marketing-led local-country decentralized. This model is based on a teleprospecting operation acting on behalf of – and from within – a single country.
Multi-country centralized. As with all centralized operations, this model aims to increase the value delivered to internal customers while providing economic leverage to the organization.
Sales team aligned. This model places the management of the teleprospecting function within sales, and lends itself to activities such as contact attainment, appointment setting and direct sales support.
"There is no single right answer," said Julian. "Each organization should follow a rational process to choose the teleprospecting model that will work best for them, taking into account all of the relevant considerations that we have outlined."
Categories