Asynchronous Sales Coaching: It's About Time
Synchronous learning applies to programs delivered in real time and led by a live instructor (e.g. Web conferencing)
Asynchronous learning is delivered on demand, without the need for a live instructor (e.g. instructional video)
It's time to extend the idea of synchronous/asynchronous to sales coaching focused on rep effectiveness
The idea of synchronous and asynchronous learning has been around for a few years. With the advent of e-learning 20 years ago, these terms defined the delivery options available to instructional designers of learning programs. Synchronous learning applies to programs that are delivered in real time and led by a live instructor (think Web conferencing). Asynchronous learning is delivered on demand, without the need for a live instructor (think instructional video). Both have their advantages and disadvantages. Synchronous learning allows participants to get real-time feedback and lets instructors adjust the learning based on participants' questions and content mastery. Asynchronous learning allows learners to learn when it's convenient for them (e.g. after normal working hours) and at their own pace.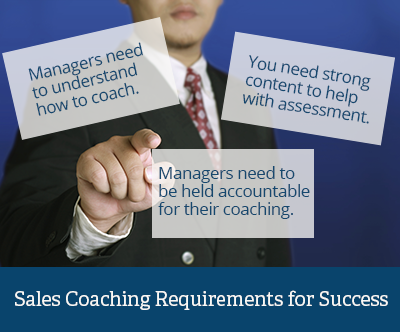 The time has come to extend this idea of synchronous/asynchronous to another area of business – sales coaching, or, more specifically, sales coaching focused on rep effectiveness (improvement of skills and knowledge). This type of sales coaching has mostly been done in a synchronous mode – happening in real time (if it was happening at all) – one-on-one with the manager and rep together. For example, a rep presents the company's new elevator pitch to the manager, who gives the rep immediate feedback.
With the introduction of new technology options specifically aimed at allowing managers to develop their reps without needing to be physically present, the dawn of asynchronous sales coaching has arrived. These new technologies solve the biggest objection (read: excuse) many managers give for not coaching – a lack of time – and fall into the following categories:
Video-based coaching. These solutions allow a rep to record him or herself and then submit the recording to a manager for assessment and feedback. These solutions come from companies like Brainshark, Allego, WAGmob, Rehearsal VRP and CommercialTribe. Many offer the rep an opportunity to first view a video of a presentation that models what good looks like (e.g. how to deliver that new elevator pitch or handle specific customer objections). Reps can then practice and ultimately "turn the camera on themselves" to record and submit their videos to their managers. The manager can, at his or her convenience, view the video and provide very structured guidance via a feedback form or may even score the rep (e.g. three out of five stars). Many technologies also include gamification options and also provide the capability to build a library of best practices.
Phone-based coaching. Like video, some of these solutions (e.g. from ExecVision.io and InsideSales.com) allow reps to record their calls with actual buyers (if allowed by local privacy laws), then send these to their managers for transcription, feedback and scoring. Other solutions (e.g. Mobi-RolePlay from KnowledgeShift) allow a rep to respond, in a role-play, to a recorded call, then submit the recording for transcription and assessment.
Coaching through knowledge assessment. Companies such as Qstream enable solutions that deliver on-demand assessments to reps via their mobile devices. For example, in the weeks after a major product rollout, reps might receive a two- to four-question quiz that tests their knowledge of a new product. Managers receive reports on which reps have taken the assessment and how they scored, and have the opportunity to provide feedback via the tool.
Like any new technology, these solutions are not silver bullets to solve all sales coaching issues. Some requirements for success:
Managers need to understand how to coach. A fool with a tool is still a fool. The same goes for a manager with an asynchronous coaching tool who does not understand how to coach. The good news is that these tools can help. They can be used as coaching development tools, providing guided coaching that maps to guided selling plays. Look for solutions that "guide" the manager on what type of feedback to give (e.g. the pace, content mastery and energy of a video submitted by the rep). Look for solutions that provide a very specific structure for managers to give reps feedback vs. just a text box. Sales enablement can reinforce the coaching criteria by training the manager on mock videos. For example, create a video of a "rep" giving a pitch, then send it to a manager for assessment and feedback. Score how well the manager assessed the pitch, and whether her or she caught the appropriate areas of feedback.
Managers need to be held accountable for their coaching. Knowing how to coach is one thing – actually doing it is another. If your organization does not have a culture of accountability around sales coaching, coaching will be inconsistent in quantity and quality. Establish a sales coaching cadence (e.g. spend X number of calls and hours per week on effectiveness coaching with reps).
You need strong content to help with assessment. The impact of asynchronous coaching is strongly dependent on the quality of the content. High-quality assessment content combines product knowledge, buyer knowledge, sales methodologies and models. Ideally, the people who create this content should have a background in adult learning design and theory.
The advent of asynchronous sales coaching technologies may help sales organizations finally solve the age-old problem of getting managers to actually coach their reps. By eliminating the need to be in the same room, and by enabling managers to coach on their time (e.g. during non-selling hours), we may yet see the age of the enlightened and enabled sales coach!
Interested in learning more? Be sure to join us at 2016 Summit to gain insight into the top issues Sales Leaders are facing today.
Categories