B2B Digital Marketing Training: SiriusDecisions and Manhattanville College's Partnership
Train in B2B digital marketing with SiriusDecisions' expertise and Manhattanville College's School of Business faculty
B2B digital marketing is rarely taught in higher education – don't miss this excellent chance to benefit
Interacting with peers and fellow marketers as well as experienced professors adds up to a great learning opportunity
Combining the strengths of different people and organizations often expands the impact of both – far more than either can do on their own. That potential for great results is the energy behind the collaboration between SiriusDecisions and Manhattanville College's School of Business – as together we offer our joint B2B digital marketing course.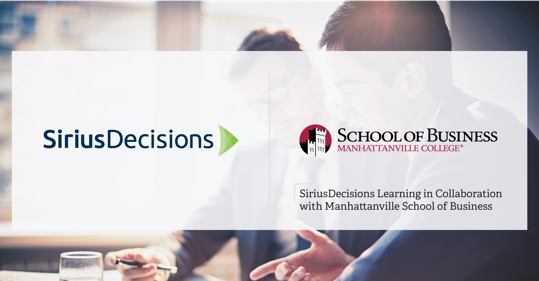 This 10-week certification program draws on the teaching and business experience of Manhattanville College's School of Business faculty, as well as the B2B marketing expertise of analysts and primary research conducted at SiriusDecisions, the world's leading B2B advisory firm for sales, marketing and product executives. The course offers a collection of tools, techniques and frameworks for overcoming business challenges and excelling in today's digital environment. Students will gain experience in meeting real-world challenges to growth and development, as well as the opportunity to refine the skills needed to persuade executives and acquire support for digital marketing initiatives. Using case studies, toolkits, peer review and discussion, and applied activities, students will leave with a best-in-class education on B2B digital marketing strategy, processes and tactics.
The course was developed in response to the ubiquity of digital technology in modern business, which has created a set of complex challenges for modern marketers. It offers a chance to interact with peers from across the B2B marketing industry, and receive instructor guidance on digital strategy topics.
Taught by a Manhattanville College School of Business professor, the course starts on September 27, 2017, and offers a certification track as well as credit for those who wish to pursue a master's degree with Manhattanville. SiriusDecisions clients and Manhattanville alumni receive a 10 percent tuition discount. The class is held entirely online and includes group discussion with peers, applied learning activities and instructor feedback.
Students who successfully complete the course will receive a certificate of completion from Manhattanville College as well as the SiriusDecisions B2B Digital Marketing certification. For those who apply for the master of science track, the certificate (three credits) can be applied toward the MS in marketing communication management program. The Manhattanville College School of Business helps prepare today's professionals for tomorrow's business. Students capitalize on the school's industry-driven content, convenient accelerated formats, and extensive faculty and alumni network. Graduates and faculty are employed at top companies including Morgan Stanley, MasterCard, PepsiCo, the NFL, Verizon and the New York Stock Exchange.
Click here to visit the course registration page to get started.
Categories